ISIS Uses Ammunition Made in United States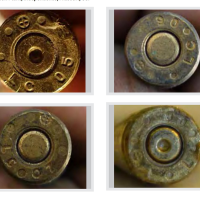 Ammunition made in U.S. and used by ISIS (photos:Conflict Armament Research)
The United States is currently spending upwards of a billion dollars attacking Islamic State forces that are using ammunition made in the USA.
Conflict Armament Research picked up 1,730 empty cartridges—the part of the ammunition that stays behind when a bullet has left the gun—in northern Iraq and Syria from July 22 to August 15. Of those, 323 were identified as coming from U.S. sources, likely captured from Iraqi forces. Much of it was manufactured at the Lake City Army Ammunition Plant in Independence, Missouri.
China led the sources with 445 cartridges recovered and the Soviet Union had 338 recovered, one that dated from 1945. The probable source of the Soviet ammunition was the Syrian military, which was supplied for years by the U.S.S.R. The Russian Federation was responsible for 154 of the rounds.
"The lesson learned here is that the defense and security forces that have been supplied ammunition by external nations really don't have the capacity to maintain custody of that ammunition," James Bevan, director of Conflict Armament Research, told The New York Times.
The militants have been adept at capturing or co-opting the military supplies given to Syrian rebels supported by the Obama administration. In other cases, they have claimed ammo previously held by Iraqi and Syrian security forces.
Sometimes IS forces even choose to fight where they have a chance of resupplying. "When battling against the Syrian Army, ISIS chooses to fight in a specific battle on a specific front only when the investment is appealing: there will be warehouses to capture," Fouad al-Ghuraibi, commander of the Kafr Owaid's Martyrs Brigade in northern Syria, told the Times.
-Noel Brinkerhoff, Steve Straehley
To Learn More:
ISIS' Ammunition Is Shown to Have Origins in U.S. and China (by C. J. Chivers, New York Times)
Jihadist Bullets Are Often Made in the USA (by Mark Thompson, TIME)
Dispatch from the Field: Islamic State Ammunition in Iraq and Syria (Conflict Armament Research) (pdf)
Both Sides Using U.S.-Made Weapons in Iraq War (by Steve Straehley, AllGov)