Both Sides Using U.S.-Made Weapons in Iraq War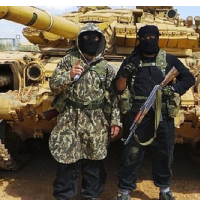 ISIS (Islamic State) fighters
When Iraqi soldiers—and their American advisors—peer out across the battlefield in their fight against ISIS (Islamic State), they're apt to see a familiar sight: the insurgents are using the same kind of weapons they are.
As ISIS moved into Iraq, it captured many American-made weapons and they're using them against the U.S. and its allies. "It's a cautionary tale, in terms of the consequences of sending more arms to the Kurds and the Iraqi security forces," William Hartung, author and director of the Arms and Security Project at the Center for International Policy, told Douglas Birch of The Center for Public Integrity. "I think once you send this kind of equipment into the middle of a civil war, it's hard to say where it will end up."
And it's not just small arms that ISIS has added to its inventory. One analyst, Michael Pregent, estimated that the group has about 60 M1 Abrams tanks, Bradley Fighting Vehicles and M109 self-propelled howitzers. A video of the first U.S. air attack on ISIS shows a U.S.-made M198 towed howitzer being destroyed by a Navy jet.
In June, when ISIS claimed to have taken charge of five U.S.-made helicopters, the group tweeted that they expected Americans to honor their warranty and service the copters.
Jane's Terrorism and Security Monitor editor Jeremy Binnie told The Center for Public Integrity that the M1117 fighting vehicle, manufactured by Textron Marine and Land Systems, has become a favorite of ISIS forces. "I'm sure Textron will be very happy," Binnie said. "Their vehicle has the thumbs up from the Islamic State."
-Steve Straehley
To Learn More:
U.S. Now Faces Threat Of U.S.-Made Weapons In Iraq (by Douglas Birch, Center for Public Integrity)
Violence in Iraq Means Profits for Beechcraft, Lockheed, Raytheon and other Weapons Makers (by Steve Straehley, AllGov)
Forgotten by Most Americans, Iraq is Still a Source of Profits for U.S. Weapons Makers (by Noel Brinkerhoff, AllGov)