First-Ever U.S. Court Hearing Granted to Surviving Civilian Victim of U.S. Killer Drone
Wednesday, December 14, 2016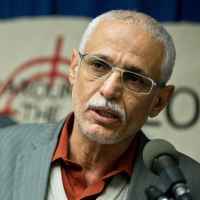 Faisal bin Ali Jaber (photo: Nicholas Kamm, AFP/Getty Images)
By Britain Eakin, Courthouse News Service
WASHINGTON (CN) – A surviving relative of two Yemeni men killed by hellfire missiles fired from a U.S. drone made a rare appearance Tuesday to ask the D.C. Circuit to reinstate his lawsuit seeking an apology from the government.
The wrongful death case brought by Faisal bin Ali Jaber, a Yemeni engineer who described the reality of living under the U.S. drone program as "a living hell," marks the first time a U.S. court has granted a civilian drone victim a hearing.
Ali Jaber lost his brother-in-law Salem bin Ali Jaber – an imam who regularly preached against al-Qaida in his sermons – and his 26-year-old nephew Waleed bin Ali Jaber, a local traffic cop, after a U.S. drone strike exploded near a local mosque in Hadramout in eastern Yemen in 2012. The strike also killed three unknown youths.
"The three youths—the presumed intended targets of the strike—were not high-ranking members of a terrorist organization, nor did they pose a threat—imminent or otherwise—to the lives of any Americans," Ali Jaber's appeals brief states.
Last year, Ali Jaber sued President Barack Obama, former Secretary of Defense Leon Panetta and former CIA Director David Petraeus not for monetary damages, but for an apology and explanation of why his relatives were killed.
"This is a really important action for this court," Ali Jaber's attorney Jeffrey Robinson said to the D.C. Circuit's three-judge panel Tuesday morning.
According to Robinson, the court must decide whether it will be held hostage to the political-question doctrine that prevents courts from interfering in executive policymaking – one of the primary reasons cited by U.S. District Judge Ellen Huvelle for dismissing the lawsuit back in March.
Will the court abandon its responsibilities to review real claims about whether executive branch use of deadly force abroad complies with international and U.S. law whenever the U.S. says that a claim touches on foreign or military affairs, Robinson asked the judges.
"That is a remarkable assertion," he said, one that is not required by the D.C. Circuit's precedent.
"It is particularly remarkable in this case because the government asked this court to abandon its responsibilities without the government having ever first had to put forward any evidence – any suggestion, any statement – that the court's exercise of its responsibilities would actually intrude upon the foreign and military affairs operations that the political-question doctrine is designed to protect," he added.
Obama defended the drone program's legality in his final national security address last Tuesday and touted its efficacy in reaching terrorists in places where it is impossible to capture them.
"Under rules that I put in place and that I made public, before any strike is taken outside of a warzone, there must be near certainty that no civilians will be killed or injured," he said.
But an amicus brief filed by three former drone operators in support of Ali Jaber contests that assertion.
"Far from the grave consideration the executive branch purports to give each strike, amici witnessed a culture that often encouraged and celebrated strikes," the brief states. "Contrary to the executive branch claims that the program operates with strict adherence to international legal principles and state sovereignty, amici witnessed a secret, global system without regard for borders, conducting widespread surveillance with the ability to conduct deadly targeted killing operations."
To the critics of drone strikes, however, Obama suggested the alternatives must be weighed.
"Drone strikes allow us to deny terrorists a safe haven without airstrikes, which are less precise, or invasions that are much more likely to kill innocent civilians as well as American service members," the outgoing president said.
But Ali Jaber painted a different picture of the impact of U.S. drone strikes. Outside the D.C. Circuit's E. Barrett Prettyman Federal Courthouse, he made a low hum to replicate the sound the drones make while flying overhead.
They are there all the time, he said in an interview, which was translated through an interpreter.
"These drones are not effective. They're not as a success as you would think," his translator said, noting that the drone strikes do not kill "as many bad people as it's supposed to," but often kill civilians.
In 2015, Ali Jaber said that al-Qaida actually expanded in parts of Yemen – four years after the U.S. began using drones there.
"The [United] States can invest there in other ways that can actually promote other ideology among the people over there," he said through his translator. "These drones are actually really helping al-Qaida attract people because they are saying, 'look – the [United] States are killing you. Come join us so we can kill them.'"
Ali Jaber said people in his area "do not know anything about the [United] States but the drones."
Meanwhile, arguing on behalf of the government, Katherine Twomey Allen with the Department of Justice suggested that Ali Jaber, as next friend and representative of the estates of his deceased relatives, lacks standing.
"It's unclear what this court could do that would redress their injuries," she said.
Ali Jaber alleges the drone strikes constituted extrajudicial killings in violation of international law and the Torture Victim Protection Act (pdf), which is enforceable under the Alien Tort Statue.
But Allen said the allegations are too speculative, as are questions about whether the threat of additional missile strikes in the area poses a future danger to the surviving relatives. That concern certainly does not apply to the two men who died in the drone strike, she said.
D.C. Circuit Judge Nina Pillard asked Allen if Ali Jaber could add nominal damages if the case is remanded to the lower court, as a way to get around the standing issue.
That would get around the Torture Victim Protection Act claims, but not the Alien Tort Statute claims, which would require exhaustion of administrative remedies, Allen said.
This piqued Pillard's interest.
"What is the administrative remedy for these folks? Where are they supposed to go?" Pillard asked.
Allen replied that they have not presented any claims to the agencies – the CIA, Department of Defense or the White House.
"How does that work?" Pillard responded. "Is there like a regulatory rubric for that? Where do you go, who do you talk to?"
Allen could not recall "the precise process," but said the statues were not intended to cover the claims.
"Some sort of claim would need to be made before the agency," Allen said. "I was just trying to explain that I'm not sure exactly what that would look like because this is fairly unprecedented and it's an extraordinary lawsuit."
Pillard interjected: "If you were someone trying to bring this extraordinary lawsuit where would you go to exhaust?"
"To the agencies that they're suing," Allen repeated.
"So they go to the CIA and the White House and the Department of Defense and just send them a letter, or I mean is there any kind of administrative anything?" she asked.
Allen said she was unaware of any such process.
Shelby Sullivan-Bennis, one of Ali Jaber's attorneys with Reprieve in New York City, said in an interview after the hearing that they had approached the CIA before filing the lawsuit.
"We received no response," she said. "There are multiple accounts of our having written unanswered letters to these different administrations."
That included a meeting with White House representatives in 2013, before the case was filed. Ali Jaber received no official response, Sullivan-Bennis said.
His case comes at a critical time, she noted.
"We hope that our plea will at least be considered," she said. "Especially in this political climate – it's more important now than ever before that the executive [branch] be bound by law."
She added, "I think the court essentially has a very rare opportunity to do its role in enforcing the laws at a time when it's more important than ever before."
"The political-question doctrine is meant to protect the discretion of the president," Sullivan-Bennis concluded. "It is not within the president's power to break international and domestic law."
To Learn More:
Obama Justice Dept. Says Yemeni Whose Relatives were Killed by Americans by Mistake can't Sue and It Won't Apologize (by Noel Brinkerhoff, AllGov)
U.S. Lawsuit by Yemen Drone Strike Victims' Families Seeks Truth, Accountability and Apology (by Noel Brinkerhoff, AllGov)