FBI Records Sought on Iraq's Backchannel Talks with U.S. Aimed at Averting 2003 Invasion
Saturday, October 15, 2016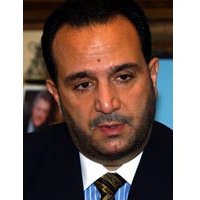 Imad Hage (photo: Slate)
By Daniel W. Staples, Courthouse News Service
WASHINGTON (CN) — Challenging the preposterous claim that U.S. intelligence preceding the war in Iraq is not a matter of public interest, an academic has brought a federal complaint to gather FBI records.
David Austin Lindsey, of Painsboro, New Jersey, filed the suit with regard to a Lebanese-American businessman who attempted to impress upon U.S. officials that Saddam Hussein wanted to avoid the protracted war.
Citing reports by the New York Times and Newsweek, the Oct. 12 complaint filed in Washington, D.C., says Imad Hage "was involved as an unofficial envoy of the Iraqi government during the period leading up to the U.S. military action in Iraq."
A Times article on Hage describes the man as a Beirut refugee who moved back to Lebanon in the late 1990s. In January 2003, a Lebanese-American friend of Hage's who worked at the Pentagon soon arranged for the man to begin relaying messages between the United States and Iraq.
As Lindsey's lawsuit notes, based on the Times report, Hage had one blemish on his record: a January 2003 arrest at Dulles Airport for carrying a handgun in his checked luggage.
Lindsey says Hage was "charged with a weapons crime in the United States District Court for the Eastern District of Virginia."
The Times published its article on the envoy in November 2003, saying Hage met with an adviser to Pentagon officials that March in London. There, Hage laid out Iraq's position that it did not have weapons of mass destruction and that it would consent to an investigation and search by U.S. troops. Hage said the Iraqis were also willing to hand over a Baghdad captive accused of involvement in the 1993 World Trade Center bombing in 1993, and to hold elections.
Of the varied diplomatic efforts to avert a war in Iraq, both public and discreet, the Times reported, "Mr. Hage's back channel appears to have been a final attempt by Mr. Hussein's government to reach American officials."
Hage told the Times that ''the Iraqis were finally taking [U.S. invasion] seriously and they wanted to talk, and they offered things they never would have offered if the build-up hadn't occurred.''
The United States wound up invading Iraq on March 20, 2003.
Lindsey, a Princeton University researcher, says he has emailed a request for the government's records on Hage this past May, but that the FBI responded in the negative a month later.
"Plaintiff, in the view of the FBI, failed to 'demonstrate sufficient public interest' to entitle Plaintiff to nonexempt responsive records," the complaint states.
With his administrative appeals unsuccessful, Lindsey now seeks court relief.
The post-doctoral researcher is represented by Daniel Stotter, an attorney in Corvallis, Ore., and by Eugene, Ore.-based attorney C. Peter Sorenson.
Neither Sotter nor the FBI returned requests for comment.
The complaint says Lindsey is studying at Princeton's Niehaus Center for Globalization and Governance, in the Woodrow Wilson School of Public and International Affairs.
To Learn More:
Majority of Republicans Wrongly Believe Weapons of Mass Destruction Program was Found in Iraq (by Noel Brinkerhoff, AllGov)
State Department Acts to Block Iraq War Bush-Blair Communications from British Report (by Noel Brinkerhoff, AllGov)
Majority of Americans Think Iraq War Wasn't Worth It (by Noel Brinkerhoff, AllGov)
Iraqi Finally Admits to Lies about WMD Used By Bush Administration to Justify Invasion (by Noel Brinkerhoff and David Wallechinsky, AllGov)
Bush Invaded Iraq on a Mission from God (by David Wallechinsky, AllGov)
Should George W. Bush be Tried for War Crimes? (by David Wallechinsky, AllGov)