Dramatic Rise in Attacks on Aid Workers
Wednesday, August 20, 2014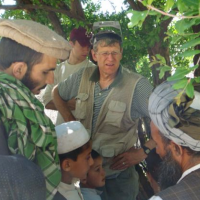 U.S. optometrist Tom Little was murdered by the Taliban in Afghanistan August 5, 2010 (photo: Libby Little)
Humanitarian work has become more dangerous, with a sharp increase in injuries and death tolls among aid workers last year.
One hundred and fifty-five aid workers died last year according to the Humanitarian Outcomes partnership, a huge jump from 2012 when 70 were killed.
Another 171 workers were seriously wounded and 134 kidnapped in 2013. Most of those attacked, 87%, were those providing aid in their own countries.
Humanitarian Outcomes says in its new report that there were 251 separate attacks in 30 nations last year involving 460 humanitarian workers. But about 75% of all these attacks occurred in just five countries: Afghanistan, Syria, South Sudan, Pakistan and Sudan. Afghanistan is by far the worst place for humanitarian missions, with 81 workers dying there in 2013.
"Aid agencies, funded by and spurred on by government donors, have pushed on further and further into the frontlines of conflicts, where the needs are greatest, but this exposes them and their staff to an increasing level of violence," Sara Pantuliano, director of the humanitarian policy group at the Overseas Development Institute, told The Guardian.
This year is also shaping up to be a bad one, the report says. So far in 2014, 79 aid workers have died, which means the first eight months of this year have already been worse than all of 2012.
The report says the most dangerous spot for an aid worker is on the road. More than half of violent attacks take place during ambushes or roadside attacks. The report offered suggestions on how to avoid being attacked for aid workers forced to travel by road.
-Noel Brinkerhoff, Steve Straehley
To Learn More:
Aid Worker Security Report 2014 (Humanitarian Outcomes) (pdf)
Deaths of Humanitarian Aid Workers Reach Record High (by Sam Jones, The Guardian)