Corporations are not Afraid of Regulation by the Securities and Exchange Commission (SEC)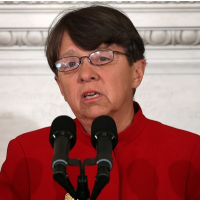 SEC Chair Mary Jo White--Alex Wong/Getty Images
The Securities and Exchange Commission (SEC) isn't exactly putting the fear of God into corporate America.
Some have blamed the head of the agency, former federal prosecutor Mary Jo White, for "treating corporate chicanery and questionable political spending with kid gloves since she was confirmed as chair in 2013," Casey Quinlan wrote at The Crime Report.
The New Republic lobbed its own rhetorical salvo at White last year, saying she "has almost prided herself on her languor" to establish greater transparency on corporate contributions to political campaigns. The New York Times reported that some former SEC staff members and financial reform advocates are "dissatisfied" with White while others said they were "infuriated" by her performance.
But Quinlan says the SEC's troubles have less to do with White and more to do with its culture and its inability to deal "with the structural issues that permitted the kind of corporate malfeasance which contributed to the 2008 financial crisis."
The agency has "a dysfunctional bureaucracy" whose roots go back to congressional decisions, according to James Angel, a Georgetown University professor who specializes in financial regulation. "It will take more than one chair to turn things around," Angel told Quinlan.
Angel said there has been progress, pointing to the use of data to profile high-risk behaviors and transactions. White has also increased the incentive for whistleblowers to come forward, awarding one such person $30 million last year.
-Noel Brinkerhoff
To Learn More:
Is the SEC Passing the Buck on Corporate Crime? (by Casey Quinlan, The Crime Report)
Mary Jo White Doesn't Scare Anybody (by Alec MacGillis, New Republic)
Once Powerful, Mary Jo White's SEC Is Seen as Sluggish and Ineffective (by Jesse Eisinger, New York Times)
After Avoiding Prosecution of Wall Street Firms, Obama Officials are Rewarded with Wall Street Jobs (by Matt Bewig, AllGov)
Revolving Door at SEC is in a Whirl as Hundreds Hired by Industry they Regulated (by Noel Brinkerhoff and Danny Biederman, AllGov)
SEC Chooses Corporate Lawyer to Handle Whistleblower Tips (by Noel Brinkerhoff, AllGov)