After Avoiding Prosecution of Wall Street Firms, Obama Officials are Rewarded with Wall Street Jobs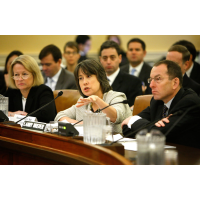 Mary Schapiro, Sheila Bair and Lanny Breuer at Financial Crisis Inquiry Commission hearing January 10, 2010 (photo: Alex Wong, Getty Images)
The revolving door between Wall Street and its government regulators has been spinning at warp speed lately. Two recent cases involve high-level officials whose jobs were to regulate Wall Street's practices and prosecute Wall Street's crimes. Despite the massive and systemic fraud that led to the financial collapse of 2008, both failed to win a single major enforcement against Wall Street, and now they are being rewarded with lucrative jobs there.
Mary Schapiro, who took over a demoralized Securities and Exchange Commission (SEC) that repeatedly failed to head off financial disasters involving Bear Stearns, Lehman Brothers and Bernard Madoff, did not win a major civil action against any Wall Street executive who was part of the subprime mortgage scam that led to the crash during her four years as SEC chair. One low point came the day federal judge Jed Rakoff refused to approve SEC's $285 million settlement with Citigroup because, just as with Goldman Sachs, SEC failed to get an admission of wrongdoing. Schapiro did open a new tips database and a whistleblower office.
Lanny Breuer worked the criminal side of the street as head of the Justice Department's criminal division for the past four years, yet he failed to win a single major criminal conviction against a Wall Street executive. He resigned shortly after a recent "Frontline" documentary implied that he had been ineffectual in bringing justice to the financial industry. His public defense of his own lack of criminal prosecutions was also widely panned.
Now both are returning to the other side: Schapiro has taken a job as a managing director and chair of the governance and markets practice at Promontory Financial Group, which advises financial firms on regulation, while Breuer is going back to Covington & Burling, a major law firm that defends financial clients, as vice chair of the firm. Although salary data are unavailable, both can be expected to earn at least $500,000 annually from their new gigs.
"It used to be called 'selling out,' 'cashing in,' or 'influence peddling.' Now it's referred to politely as the 'revolving door,'" Dennis Kelleher, president of Better Markets, a nonprofit that wants stronger regulation of the financial industry, told the National Journal. "But whatever it's called, nothing is more corrosive to the American people's trust in government than when former senior public officials turn their so-called public service into multimillion-dollar riches unimaginable to almost all Americans."
Even more insidious than outright corruption, argue such critics, is the fact that the continually revolving door between Wall Street and its regulators creates a financial industry culture shared by both bankers and their regulators, who come to see themselves as part of the financial system—and hope eventually to be rewarded by the profit-making companies they are supposed to regulate and prosecute.
-Matt Bewig
To Learn More:
Mary Schapiro and Lanny Breuer Give Us the Ultimate Dog-Bites-Man Story (by Michael Hirsh, National Journal)
Justice Dept. Defends Not Prosecuting Corporate Leaders for White-Collar Crime (by Noel Brinkerhoff and David Wallechinsky, AllGov)
SEC Chair Schapiro Retains a Lawyer (by Noel Brinkerhoff and David Wallechinsky, AllGov)
Revolving Door at SEC is in a Whirl as Hundreds Hired by Industry they Regulated (by Noel Brinkerhoff and Danny Biederman, AllGov)