Chevron and ExxonMobil Top List of 90 Biggest Industrial-Age Polluters
Thursday, November 28, 2013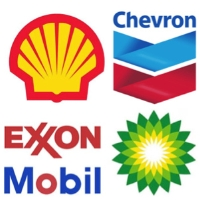 Ninety corporations have been identified as the biggest producers of greenhouse gas emissions over the last two centuries, with oil giants Chevron and ExxonMobil topping the list.
Richard Heede at the Climate Accountability Institute compiled the list after examining historical carbon dioxide and methane emissions since the 18th century. The research revealed 90 private and state-owned companies that produce fossil fuels and cement across 43 countries were responsible for 63% of the greenhouse gas emissions.
Fifty-six of the 90 polluters were oil and gas businesses, 37 were coal companies, and seven were cement producers.
Together those companies bear responsibility for 914 billion tons of greenhouse gas pollution, amounting to 63% of all CO2 and methane emissions since 1751. Half of those industrial emissions were released only during the last three decades.
"The purpose of this analysis is to understand those historic emissions as a factual matter, to invite consideration of their possible relevance to public policy, and to lay the possible groundwork for apportioning responsibility for climate change to the entities that provided the hydrocarbon products to the global economy," Heede wrote.
While nations argue over which of them is most responsible for climate damage, Heede's research indicates that it is the major corporations that are often the real responsible parties and that all nations, as consumers of their product, also play a role.
"These entities extract resources from every oil, natural gas, and coal province in the world, and process the fuels into marketable products that are sold to consumers in every nation on Earth," wrote Heede.
Topping the list was Chevron and ExxonMobil, followed by Saudi Arabia's oil corporation, Saudi Aramco, the United Kingdom's BP and Russia's Gazprom.
Rounding out the top 10 were Royal Dutch Shell, the National Iranian Oil Company, Pemex in Mexico, ConocoPhillips and Petroleos de Venezuela.
-Noel Brinkerhoff, Danny Biederman
To Learn More:
The 10 Biggest Polluters of the Industrial Age (by Tara Lohan, AlterNet)
Tracing Anthropogenic Carbon Dioxide and Methane Emissions to Fossil Fuel and Cement Producers, 1854–2010 (by Richard Heede, Climatic Change)
AK Steel Takes First and Third in Contest for Worst Polluter of U.S. Waterways (by Noel Brinkerhoff and David Wallechinsky, AllGov))
Bayer Beats Out ExxonMobil for Most Toxic Corporate Air Polluter Title (by David Wallechinsky, AllGov)