Bayer Beats Out ExxonMobil for Most Toxic Corporate Air Polluter Title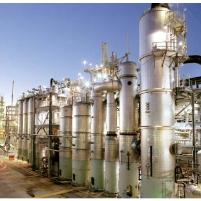 Bayer Material Science, Baytown
The worst air polluter in the United States isn't an oil or chemical company, but a longtime name best associated with aspirin: Bayer. According to the Political Economy Research Institute at the University of Massachusetts Amherst, the Bayer Group, headquartered in Germany, was ranked No. 1 in its Toxic 100 Air Polluters in the United States.
The Toxic 100 Air Polluters rankings are based on the amounts and toxicity of chemicals released by companies, along with such factors as wind patterns and the number of people exposed.
On March 30, the Bayer CropScience division agreed to pay a $143,000 fine for violations related to an explosion in September 2008 that killed two workers at its plant in Institute, West Virginia. The explosion occurred during the production of a component used in the insecticide thiodicarb.
-David Wallechinsky