Argentina Accuses U.S. of Stonewalling Requests to Hunt down Ex-Spy Chief Hiding in Miami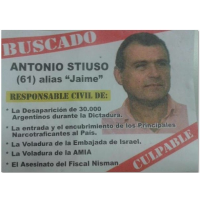 Wanted poster for Antonio Stiuso (photo: Minuto de Cierre)
The government of Argentina is getting fed up with the United States after repeated efforts to track down its ex-spy chief, believed to be hiding in Miami, have resulted in silence from Washington.
Argentinian officials have made eight formal requests to the Obama administration for help locating Antonio Stiuso, who led the now-disbanded intelligence secretariat until January, when he fled Argentina. According to media reports, Stiuso is in Miami but there has been no official confirmation of that.
Stuiso has been implicated in the death of prosecutor Alberto Nisman, who was killed in his home in January only days after he accused President Cristina Fernández of conspiring to cover up alleged Iranian involvement in a 1994 bomb attack on a Jewish community center in Buenos Aires that killed 85 people, according to The Guardian. Fernández in turn has accused Stiuso of orchestrating Nisman's death to incriminate her and destabilize her government.
Argentina wants Stiuso handed over, and Fernandez's government has warned the Obama administration that its lack of cooperation in the matter could jeopardize the two countries' relationship.
"We ask ourselves sometimes: 'Is the United States ready to allow the bilateral relations between it and Argentina to worsen for a man they all say has no importance, no strategic value for the United States?'" Anibal Fernández, Argentina's cabinet chief of staff, told reporters.
Another official, Oscar Parrilli, head of Argentina's Federal Intelligence Agency, said the U.S. ambassador to Buenos Aires may be summoned to explain "the absolute lack of response and in some ways complicity in this situation."
A spokesman for the U.S. embassy in Buenos Aires said, according to Reuters, "We don't comment on requests for assistance in criminal matters and we respond to these requests through established judicial channels."
-Noel Brinkerhoff
To Learn More:
Argentina Warns U.S. to Cooperate in Heightened Search for Fugitive Spy Chief (by Uki Goñi, The Guardian)
Argentina Intensifies Effort to get Ex-Spy Chief, Blasts U.S. (by Peter Prengaman, Associated Press)
Argentina Slams U.S. for Failing to Help in Hunt for Ex-Spymaster (Reuters)
The Shady History of Argentina's Intelligence Secretariat (by Uki Goñi, The Guardian)
Argentina Government Accuses U.S. of Smuggling Spy Equipment (by Noel Brinkerhoff, AllGov)