SEC May Soon Buck Its Male-Heavy History with a Majority of Female Commissioners
Tuesday, October 27, 2015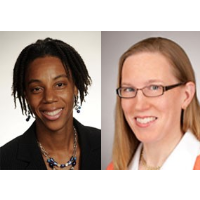 Lisa Fairfax, Hester Peirce (photos: George Washington University, Mercatus Center)
If the Senate cooperates, the Securities and Exchange Commission (SEC) could soon be 80% women.
President Barack Obama has nominated two women to serve as commissioners at the SEC, an agency that has had only 11 females on its board during its 81-year history. It wasn't until 1977 that a woman, Roberta Karmel, finally broke the agency's glass ceiling when she was approved for the post after being nominated by President Jimmy Carter.
Obama has now nominated Lisa Fairfax, a law professor at George Washington University, to fill the Democratic seat on the SEC that had been held by Luis Aguilar. Fairfax is seen as an advocate for consumers who isn't coming from a Wall Street law firm.
Democratic Sen. Sherrod Brown of Ohio, who championed Fairfax's appointment, "urged the administration to choose someone for the Democratic seat who would be a strong advocate for investors and committed to enforcing the law," Brown spokesman Greg Vadala said, according to The New York Times. "Ms. Fairfax fits the bill." Fairfax would also be only the third African-American SEC commissioner in the agency's history.
To fill the Republican seat that had been held by Daniel Gallagher, Obama nominated Hester Maria Peirce, a former Senate aide and SEC lawyer who has been critical of the Dodd-Frank financial protection law. She is now a senior research fellow and director of the Financial Markets Working Group at George Mason University's Mercatus Center.
In June, a coalition of investor protection groups sent Obama a letter criticizing him for filling the SEC with "'revolving door' insiders with a history of moving back and forth between Wall Street firms seeking to escape accountability and the agency charged with defending the public interest." The new nominations appear to be bucking that trend.
"[Fairfax] is not a revolving-door candidate, so that is a positive thing," Marcus Stanley, policy director of Americans for Financial Reform, the nonprofit coalition that spearheaded the letter, told the Times.
If the two nominations are approved, it would be the first time there are four women serving as SEC commissioners. Mary Jo White is the chair of the commission and Kara Stein is also on the board. Michael Piwowar would be the lone male commissioner.
-Steve Straehley, Danny Biederman
To Learn More:
The Most Diverse SEC Ever May Be Taking Shape (by Julie Hirschfeld Davis, New York Times)
The SEC Could Soon Be Run Mostly by Women (by Bouree Lam, The Atlantic)
As Government Jobs Disappear, It's Women and African-American Men who are Hit the Hardest (by Noel Brinkerhoff, AllGov)
U.S. Trails Allies in Percentage of Women on Corporate Boards (by Noel Brinkerhoff, AllGov)
White Women and Latinos Underrepresented in Federal Workforce (by David Wallechinsky and Noel Brinkerhoff, AllGov)