As Government Jobs Disappear, It's Women and African-American Men who are Hit the Hardest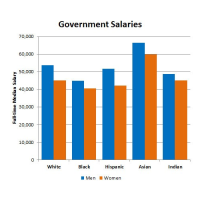 (graphic: Steve Straehley, AllGov)
The Great Recession resulted in large budget cuts throughout the states, with millions of public-sector jobs lost in the process. Women and African American men have suffered most from those cuts, which have yet to be reversed despite the improved economy.
According to the Department of Labor, there are half a million fewer public sector jobs than before the start of the recession in 2007. Add to this the discovery by Elise Gould, an economist at the Economic Policy Institute (EPI), that after factoring in normal population growth over the past eight years, there are now actually 1.8 million fewer jobs in the public sector.
"The decline reverses a historical pattern, researchers say, with public sector employees typically holding onto their jobs even during most economic downturns," The New York Times' Patricia Cohen wrote.
This development has been especially tough for blacks and women. "Roughly one in five black adults works for the government, teaching school, delivering mail, driving buses, processing criminal justice and managing large staffs," Cohen wrote. "They are about 30 percent more likely to have a public sector job than non-Hispanic whites, and twice as likely as Hispanics."
In addition, blacks and women lost their jobs at a higher rate than whites as a result of the economic downturn. EPI found that although African-Americans comprised 12.8% of state and local government job-holders, they were 19.8% of those laid off during the recession. Women held 59.5% of public-sector jobs, but 70.5% of those laid off because of the downturn were women.
"Compared to the private sector, the public sector has offered black and female workers better pay, job stability and more professional and managerial opportunities," Jennifer Laird, a sociologist at the University of Washington, told the Times.
That may have been the case in the past, but data compiled by the Equal Employment Opportunity Commission (EEOC) reveals women in the public sector (outside the federal government) held most of the lower-paying positions as of 2013.
EEOC data covering state and local governments shows that women had the majority of jobs that paid less than $43,000 a year, while men had the majority of the jobs that pay more. Also, the higher the salary, the more likely the jobs were held by white workers, according to the EEOC figures.
-Noel Brinkerhoff
To Learn More:
Public-Sector Jobs Vanish, Hitting Blacks Hard (by Patricia Cohen, New York Times)
Racial Imbalance Exists All Across Local Governments, Not Just In Police Departments (by Reid Wilson, Washington Post)
National Summary Reporting Units (Equal Employment Opportunity Commission)
Federal Push to Hire Veterans Reduces Jobs Available for Women (by Noel Brinkerhoff, AllGov)
White Women and Latinos Underrepresented in Federal Workforce (by David Wallechinsky and Noel Brinkerhoff, AllGov)