Postal Service Issues Stamp with Misattributed Quote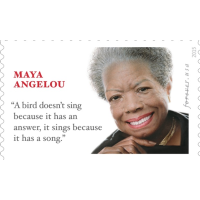 (AP photo)
The U.S. Postal Service just unveiled a stamp intended to honor poet Maya Angelou. It ended up quoting another writer's work.
The stamp features the quote: "A bird doesn't sing because it has an answer, it sings because it has a song." The line was written, not by Angelou, but by Joan Walsh Anglund, and appeared in "A Cup of Sun," a collection of her poems published in 1967. Anglund's original line used the pronoun "he" where "it" appears.
USPS officials didn't discover their mistake until the stamp was already printed and The Washington Post informed them of the error.
"Had we known about this issue beforehand, we would have used one of [Angelou's] many other works," USPS spokesman Mark Saunders said in an email to the newspaper. "The sentence held great meaning for her and she is publicly identified with its popularity." Angelou quoted Anglund's poem in her autobiography published two years after the release of "A Cup of Sun."
This isn't the first time that Angelou has been involved in a quotation controversy. When Chinese sculptor Lei Yixin created a memorial two years ago for Martin Luther King Jr., Angelou and others complained about the abbreviated use of a line from one of MLK's speeches.
Lei had used the line, "I was a drum major for justice, peace and righteousness," taken from King's "Drum Major Instinct" speech.
Critics said the phrase was taken out of context. The complete sentence reads: "Yes, if you want to say that I was a drum major, say that I was a drum major for justice. Say that I was a drum major for peace. I was a drum major for righteousness. And all of the other shallow things will not matter." The sculptor later removed the truncated phrase from the statue.
-Noel Brinkerhoff
To Learn More:
Postal Service Releases Maya Angelou Stamp with Quote from another Author (by Josh Hicks, Washington Post)
Book Author Joan Walsh Anglund says of Angelou Stamp: 'That's My Quote' (by Lonnae O'Neal, Washington Post)
Sculptor Removes Phrase From Memorial to King (by Erin Banco, New York Times)
Controversy Simmers over Putting Corporate Sponsors and Celebrities on Stamps (by Steve Straehley, AllGov)
Postal Service Reprints Famous Mistake, This Time on Purpose (by Matt Bewig, AllGov)
Postal Service Wasted almost $2 Million Overproducing Simpsons Stamps and Flags of Our Nation Series (by Noel Brinkerhoff and David Wallechinsky, AllGov)