Postal Service Reprints Famous Mistake, This Time on Purpose
Monday, September 23, 2013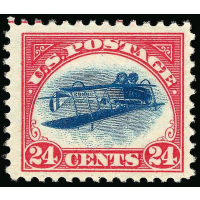 Inverted Jenny, 1918
The U.S. Postal Service is about to make the same mistake twice, this time on purpose.
The first time was May 1918. To celebrate the first airmail flight, the Post Office decided to issue a commemorative 24-cent stamp, red with a blue picture of a Curtiss JN-4 biplane, or "Jenny," the aircraft being used to carry the mail. Rushing to release the stamps just two days before that maiden flight, the Post Office accidentally issued a sheet of 100 Jenny stamps showing the biplane flying upside down. Printing inspectors and the postal clerk who sold the sheet to a collector missed the error, the clerk later explaining, "How was I to know the thing was upside down? I never saw an airplane before."
After Postal inspectors failed in their attempt to retrieve the stamps from their purchaser, they began to make their way to serious collectors. Today, they are among the most valuable stamps around; one of them selling at auction for nearly $1 million in 2007.
This year, the Postal Service is issuing 2 million Inverted Jenny souvenir stamps with a face value of $2 to celebrate the opening of the new William H. Gross stamp gallery at the Smithsonian National Postal Museum, which will house some of the agency's most treasured artifacts.
Those postal treasures include the only piece of mail postmarked on the moon, the lock and key from the mailroom of the Titanic, and the oldest prepaid postage stamp in existence: the 1841 Penny Black picturing Queen Victoria. The gallery will have the world's largest stamp collection, and 23 Inverted Jenny stamps will be on display from July 30 through September 30.
"Stamps are a window, a fresh eye, into American history," says chief curator Cheryl Ganz.
And that first airmail flight? A complete fiasco. Army Lt. George Boyle, fresh out of flight school and engaged to the daughter of the Interstate Commerce Commissioner, was set to fly the mail from Washington DC to Philadelphia. He headed south, got completely lost, ran out of gas and crash-landed in a field, breaking his propeller. He did no better on a second run, but airmail service survived.
-Matt Bewig
To Learn More:
The Return of a Loop-de-Loopy Postal Mistake (by Natalie DiBlasio, USA Today)
Postal Service brings back flawed 'Inverted Jenny' stamp (by Josh Hicks, Washington Post)
The Inverted Jenny (by Edwards Park, Smithsonian Magazine)