Postal Service Wasted almost $2 Million Overproducing Simpsons Stamps and Flags of Our Nation Series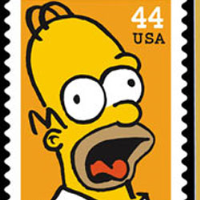 Among its many fiscal problems, the U.S. Postal Service (USPS) wasted $4 million overproducing commemorative stamps featuring cartoon characters, flags, locations and famous people.
To celebrate the 20th anniversary of the Simpsons television show, the Postal Service printed one billion "The Simpsons" stamps.
It sold 318 million of the stamps, which cost the USPS $1.2 million in overproduction costs.
Another bad idea was printing 500 million Flags of Our Nation series 4 stamps. The series sold less than 120 million, costing the cash-strapped agency $716,000. It wasn't that these stamps sold poorly, but rather too many were printed.
Other commemorative stamps that didn't sell as well as anticipated during 2009 and 2010 featured the lunar New Year, film director Oscar Micheaux and a Christmas stamp showing an angel with a lute.
The five most popular commemoratives between 2009 and 2011 were:
Christmas Holiday Evergreens (1,811,577,438 sold)
Winter Holidays (1,078,703,956)
Flags of our Nation Series 3 (496,570,600)
Love King and Queen of Hearts (480,160,800)
Adopt a Shelter Pet (389,707,871)
The five least popular were:
Supreme Court Justices (3,190,321 sold)
Pioneers of the Civil Rights Movement (10,312,124)
Eid (13,584,337)
Zion National Park (16,734,400)
Puerto Rican Poet Julia de Burgos (18,997,100)
-Noel Brinkerhoff, David Wallechinsky
To Learn More:
Stamp Manufacturing and Inventory Management Audit Report (U.S. Postal Service, Inspector General) (pdf)
Simpsons Stamps Wasted $1.2 Million For Postal Service, Report Says (by Angela Grieling Keane, Washington Post)