Controversy Simmers over Putting Corporate Sponsors and Celebrities on Stamps
Sunday, November 02, 2014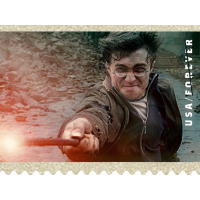 With the advent of e-mail and electronic bill paying, fewer Americans are using stamps these days. But some of those who still revere the art form of stamps are concerned that the United States Postal Service (USPS) is trading heritage for profit in its selection of commemorative stamps.
Cary Brick, who recently ended a 12-year term on the Citizens' Stamp Advisory Committee, has written a letter urging his former fellow board members to resist choosing stamps "with the same profit motives as Big Macs, Slurpees, jeans or neighborhood tattoo parlors."
The Postal Service came under fire last year for releasing a series of stamps featuring the characters from the "Harry Potter" movies. In that instance the USPS went around the committee to release the series. Some members of the panel were upset, not in the least because the character isn't even American, and complained to Postmaster General Patrick Donahoe about it.
Their feelings were echoed by others in the stamp collecting community. "Harry Potter is not American. It's foreign, and it's so blatantly commercial it's off the charts," John Hotchner, a stamp collector and former president of the American Philatelic Society, who served on the committee for 12 years until 2010, told The Washington Post. "The Postal Service knows what will sell, but that's not what stamps ought to be about. Things that don't sell so well are part of the American story."
For its part, the Postal Service has attempted to make extra money in a time of declining revenues by creating stamps that have more commercial value. Collectors might welcome the recent transfer of Susan McGowan, who had been in charge of the stamp service office, to another position in the USPS marketing department. However, Nagisa Manabe, a former Coca-Cola executive brought in to "reinvigorate" the Postal Service, remains in her post as chief marketing and sales officer of USPS.
On November 6, USPS will release four stamps in honor of the 50th anniversary of the first airing of the animated NBC-TV special "Rudolph the Red-Nosed Reindeer." The rights to the show are now owned by CBS.
-Steve Straehley
To Learn More
'Don't Throw Traditional Stamps Into The [Postal] Dumpster,' Former USPS Committee Member Warns (by Lisa Rein, Washington Post)
Harry Potter Stamp Riles Postal Service Panel, Traditional Stamp Collectors (by Lisa Rein, Washington Post)
Postal Service Wasted almost $2 Million Overproducing Simpsons Stamps and Flags of Our Nation Series (by Noel Brinkerhoff and David Wallechinsky, AllGov)