Pocket-Size U.S. Constitution Becomes Bestseller after Muslim-American Offers to Loan His Copy to Trump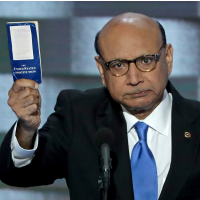 Khizr Khan holds up his pocket U.S. Constitution (photo: Saul Loeb, AFP/Getty Images)
By AP Writer Bradley Klapper and Associated Press
LOS ANGELES (AP) — A pocket version of the U.S. Constitution has become a best-seller on Amazon.com.
The 52-page pamphlet printed by the National Center for Constitutional Studies sells for $1 and was in the Top 10 best-selling books on Amazon on Saturday afternoon. The site produces an hourly list of its best sellers.
The Constitution emerged as a best-seller days after Muslim-American lawyer Khizr Khan, whose son was killed while serving in Iraq, flashed a pocket Constitution and offered to lend it to Republican presidential candidate Donald Trump during a speech at the Democratic National Convention.
"Have you even read the Constitution?" he asked Trump.
To rapturous cheers, Pakistan-born Khizr Khan fiercely attacked the billionaire businessman Thursday at the Democratic convention in Philadelphia, saying that if it was up to Trump, his son never would have been American or served in the military.
Khan said that Hillary Clinton, by contrast, "called my son the best of America."
The address was the latest effort by Democrats to highlight their diversity and criticize Trump's most contentious plans. Beyond his proposed wall across Mexico, the billionaire businessman has threatened to ban Muslims from entering the United States if he becomes president.
Capt. Humayun Khan died in 2004 when a car loaded with explosives blew up at his compound. He was 27.
Honoring his son, Khizr Khan pulled a copy of the Constitution out of his suit pocket and offered to lend it to Trump.
"Look for the words 'liberty' and 'equal protection of law,'" he said standing next to his wife, waving the paperback document vigorously.
"Have you ever been to Arlington cemetery?" he then asked. "Go look at the graves of brave Americans who died defending United States of America. You will see all faiths, genders and ethnicities. You have sacrificed nothing."
Khan, who moved to the U.S. in 1980, said he and his wife were "patriotic American Muslims with undivided loyalty to our country."
"Like many immigrants, we came to this country emptyhanded," he said, believing that with hard work he could raise his three sons "in a nation where they were free to be themselves and follow their dreams."
Trump, Khan argued, was imperiling that ideal with his smears of Muslims, women, judges and other groups.
He urged Muslims, immigrants and all patriots "to not take this election lightly."
"Vote for the healer," Khan said, "not the divider."
The version of the Constitution Khan used at the convention did not appear to be the same as the one that became popular on Amazon.
A message sent to Amazon seeking sales details for the Constitution pamphlet was not immediately returned.
To Learn More:
Trump's Call for Russia to Interfere in U.S. Election on His Behalf Alarms Foreign Policy Experts (by Max Fisher, New York Times)
ACLU Gears Up to Fight in Court Anticipated "Unconstitutional Acts" by a President Trump (by Bianca Bruno, Courthouse News Service)
Conservatives Decide Trump Qualifies as a Fascist (by Noel Brinkerhoff, AllGov)
U.S. Constitution Losing Influence as Model for Other Nations (by David Wallechinsky and Noel Brinkerhoff, AllGov)