Morning Shows, Wheel of Fortune and Jeopardy Ran the most Senate Ads
Friday, November 14, 2014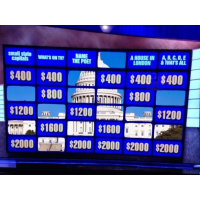 (graphic: Steve Straehley, AllGov)
Game shows and network morning programs provide viewers with entertainment and easy-to-digest information. But during the months leading up to the midterm elections, fans of these shows had to put up with considerably heavier content when the commercial breaks kicked in.
An analysis by the Center for Public Integrity (CPI) that examined where 1 million political commercials for U.S. Senate races ran this year reveal the majority of them aired during shows like "Good Morning America," "Today" and "CBS This Morning."
"Good Morning America" proved the most popular with campaigns, which bought time for nearly 30,000 Senate ads there during the 2014 election cycle. "Today" and "CBS This Morning" came in second and third, respectively, with about 27,000 and 25,000 ads.
"The hard truth remains that people wake up in the morning and turn on their televisions — and political groups know this," Elizabeth Wilner, senior vice president for politics at Kantar Media Intelligence, told CPI. "Years from now, if television advertising becomes less important to politics, the morning shows will be the last place where you will still find political ads."
Campaigns also invested in commercial time slots for game shows. "Wheel of Fortune" fans were subjected to 20,000 election ads, and "Jeopardy!" viewers 18,000.
Other shows popular with campaigns were "Big Bang Theory" (more than 14,500), and "Live! with Kelly and Michael," "The Tonight Show with Jimmy Fallon," "Dr. Phil," "The Ellen DeGeneres Show," "The Late Show with David Letterman" and "Family Feud," all of which had at least 11,000 political spots run during their breaks.
-Noel Brinkerhoff
To Learn More:
Hate Political Ads? Skip Morning Shows (by Dave Levinthal, Center for Public Integrity)
A Million TV Ads Fuel Battles for U.S. Senate (by Noel Brinkerhoff, AllGov)
TV Attack Ads Average One Per Minute…in North Carolina Alone (by Noel Brinkerhoff and Steve Straehley, AllGov)