A Million TV Ads Fuel Battles for U.S. Senate
Saturday, November 01, 2014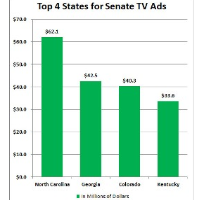 (Graphic: Steve Straehley, AllGov)
No doubt voters in several battleground states have felt like this year's election has inundated them with millions of television commercials, given the volume of ads and how much money campaigns have poured into contested Senate races. That would be a pretty good guess.
The fight for control of the U.S. Senate has resulted in more than 900,000 commercials airing in battleground states, with experts projecting the final tally to break a million by the time all the races have concluded, according to the Center for Public Integrity.
Consider this: all the Senate races combined to flood the airwaves with 83,000 ads just last week.
In North Carolina, two candidates—Democratic incumbent Kay Hagan and Republican challenger Thom Tillis—and their associated "independent" supporters managed to dump 11,000 commercials on TV stations from October 21 to October 27. The deluge averaged out to about an ad a minute.
The race in Iowa between Democrat Bruce Braley and Republican Joni Ernst also produced an ad a minute at one point. Colorado's Senate race is also tight and that's been good news for Denver station KUSA, which ran more than 900 Senate-related ads the week of Oct. 21-27.
-Noel Brinkerhoff
To Learn More:
U.S. Senate Races to Attract 1 Million TV Ads (by Michael Beckel, Center for Public Integrity)
Senate Races are Focusing their TV Ads on Health Care and Jobs Ahead of Election Day (by Jose A. DelReal, Washington Post)
TV Attack Ads Average One Per Minute…in North Carolina Alone (by Noel Brinkerhoff and Steve Straehley, AllGov)
Political Campaigns find that Online Advertising Space—Just Like TV and Print—has Its Limits (by Noel Brinkerhoff, AllGov)
Koch Brothers Responsible for almost 10% of TV Campaign Ads So Far this Year (by Noel Brinkerhoff, AllGov)