TV Attack Ads Average One Per Minute…in North Carolina Alone
Saturday, October 25, 2014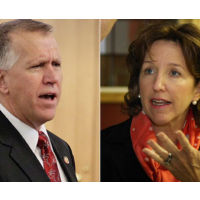 Thom Tillis and Kay Hagan (AP photos)
The only thing uglier than the Halloween masks of late October are the political advertisements airing before next month's election. And nowhere is the campaign hatred more prevalent than in North Carolina.
In the fight for control of the U.S. Senate, the battle between incumbent Democrat Kay Hagan and Thom Tillis, Republican Speaker of the North Carolina House, has become ground zero for an onslaught of negative commercials.
The Center for Public Integrity found that between October 14 and October 20, North Carolinians were subjected to an average of one attack ad for every minute of TV time. The Center calculated that only about two dozen of the ads aired that week had a positive tone.
"Congratulations, North Carolina: You've become the year's great state of political hate," the center's Dave Levinthal wrote.
The Center's calculation was based on the airing of 10,800 Senate-based TV ads during the week in question "that featured at least some content that tarred and feathered either incumbent Democratic Sen. Kay Hagan or Republican challenger Thom Tillis," Levinthal reported.
Spewing all that bile isn't cheap. About $56 million has been spent by candidates and their supporters on television ads in North Carolina, which could make it the most expensive Senate race in history. Nationwide, about $365 million has been spent on Senate races, with more than $156 million of that coming from "independent" groups.
-Noel Brinkerhoff, Steve Straehley
To Learn More:
North Carolina's State of Political Hate (by Dave Levinthal, Center for Public Integrity)
Who's Buying the Senate (by Chris Zubak-Skees, Center for Public Integrity)
Big Spending by Parties, Independent Groups Drowns Airwaves in Negative Attacks (by Matea Gold, Washington Post)
Why Are There So Many More Negative Campaign Ads? Because They Work (by Noel Brinkerhoff, AllGov)