Guided Missiles Missing from Guided Missile Containers Found Floating in Pacific Ocean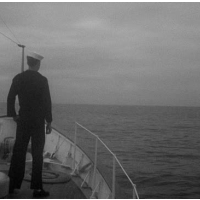 (photo: Getty Images)
By Associated Press
Two large shipping containers, each stamped with the words "Contains: Guided Missile," were discovered bobbing in the Pacific Ocean near the southeast Alaska island community of Craig.
Alaska State Troopers say both were empty, and information from tags attached to the boxes was sent to U.S. military authorities.
Troopers were investigating the discovery of one suspicious box Sunday when they got a radio message from a mariner that another one showed up.
Clinton Cook Sr. tells Anchorage television KTUU he was on a boat that found one of the heavy, hard plastic containers. They were going to pass it, but noticed the unusual shape, about 8-feet by 2-feet.
Troopers say an explosives ordinance team helped determine the boxes were "void of their original contents." Troopers didn't know any history of the containers.
To Learn More:
Cubans Return U.S. Hellfire Training Missile Mistakenly sent by Lockheed (by Bradley Klapper, Associated Press)
U.S. Loses Track of $500 Million Worth of Weapons in Yemen, Including Drones, Helicopters and 1.2 Million Rounds of Ammo (by Noel Brinkerhoff, AllGov)
Military Weapons Given to Police have Gone Missing (by Steve Straehley, AllGov)
Thousands of U.S. Weapons Provided to Afghan Forces Are Unaccounted For (by Noel Brinkerhoff, AllGov)
Sloppy Oversight of Classified Nuclear Weapons Drawings and Parts (by Noel Brinkerhoff, AllGov)
U.S.-Led Military Unit in Afghanistan Lost $230 Million in Spare Parts, Then Spent $138 Million for More (by Noel Brinkerhoff, AllGov)