31% of Federal Employees are Veterans
Saturday, August 29, 2015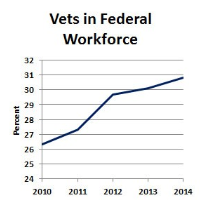 (graphic: Steve Straehley, AllGov)
One of President Barack Obama's goals when he came into office was to get the federal government to hire more veterans, particularly since job prospects in 2009 were bleak for those who had served in the military.
A new report (pdf) shows the emphasis on hiring veterans has paid off, at least as far as getting them into federal positions. But keeping them there is another matter.
The report by the Office of Personnel Management says 31% of all federal workers are now veterans. Veterans made up nearly half of all new government hires during fiscal year 2014. The rate, 47.4%, is at its highest in five years.
But as Lisa Rein at The Washington Post points out, the "bad news is that once veterans get into government, they don't stay long. They're more likely to leave their jobs within two years than non-veterans."
The State Department and the Pentagon, have had success keeping more veterans than non-veterans around. But others have seen nearly 40% of their veteran hires quit within two years. At the Small Business Administration, only 62% of veterans stayed two years or more, compared to 88% of non-veterans. The Department of Commerce kept 68% of its veterans two years or more compared to 82% for non-veterans, while the Department of Veterans Affairs, "traditionally a draw for former troops," Rein noted, held almost 75% of its veteran workers, compared to 20% of its non-veterans.
-Noel Brinkerhoff
To Learn More:
Employment of Veterans in the Federal Executive Branch Fiscal Year 2014 (Office of Personnel Management) (pdf)
Record Numbers of Veterans Are Getting Jobs in the Government — But a Lot of Them Quit (by Lisa Rein, Washington Post)
Federal Hiring of Veterans Keeps Growing and Vet Unemployment Hits 7-Year Low (by Noel Brinkerhoff, AllGov)
Federal Push to Hire Veterans Reduces Jobs Available for Women (by Noel Brinkerhoff, AllGov)