Federal Hiring of Veterans Keeps Growing and Vet Unemployment Hits 7-Year Low
Wednesday, April 01, 2015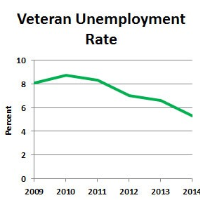 (graphic: Steve Straehley, AllGov)
Times are good for veterans seeking work, either with the federal government or in general.
The Office of Personnel Management (OPM) has reported that a third of all new hires by federal agencies last year were veterans, a record. Veterans made up 33.2% of new federal workers in fiscal year 2014, up from 31% in fiscal 2013. Both rates were the highest ever, according to OPM.
The increase is a result of the Veterans Employment Initiative, signed by President Barack Obama in 2009 to increase the number of veterans in civil service positions. The effort has involved establishing liaisons at every agency to recruit veterans.
During the George W. Bush administration, the veterans hiring rate barely inched up between fiscal years 2003 and 2007 from 25% to 25.5%.
More good news came out last week from the Bureau of Labor Statistics, which reported the national unemployment rate for ex-service personnel in 2014 dropped to its lowest point in six years.
Last year, the jobless rate for veterans dipped to 5.3%, "representing a decrease of 1.3 percentage points compared to 2013 and the fourth consecutive year of improvement," Josh Hicks wrote at The Washington Post. The unemployment rate reached an Obama administration high of 10% in January 2011.
-Noel Brinkerhoff
To Learn More:
One-Third of New Hires in the Federal Government Last Year Were Veterans (by Eric Katz, Government Executive)
Veterans Unemployment Rate Drops To Lowest Point Since 2008 (by Josh Hicks, Washington Post)
Recent Veterans more likely to be Employed than Non-Veterans (by Noel Brinkerhoff, AllGov)
Federal Push to Hire Veterans Reduces Jobs Available for Women (by Noel Brinkerhoff, AllGov)