VA Hospitals May be Concealing Wait Times for Vets
Tuesday, November 03, 2015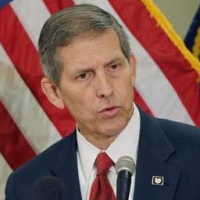 Sloan Gibson (photo: Matt York, AP)
Veterans are still waiting months to get care from VA medical centers, but the agency's leadership has tried to obscure this problem by changing how it calculates the time it takes to see a medical professional.
Since the Department of Veterans Affairs was blasted by lawmakers for hiding how long it really took for vets to receive help, the agency has spent billions of dollars trying to improve its scheduling system. But CNN learned that the efforts have still left many former service members waiting months or more to see a doctor or specialist.
Meanwhile, the VA has changed its wait-time calculations in what may be an attempt to hide the ongoing issue. Wait times had been measured by the time that elapsed from the day an appointment was created until the day it was completed, Drew Griffin, Nelli Black, Scott Bronstein and Curt Devine reported for CNN. Wait times are now calculated by measuring the time between the date a patient prefers to be seen and the date the appointment is actually completed, they found.
One source told CNN that veterans in Phoenix are waiting three to six months, and sometimes more for care, including those involving "potentially critical health procedures, such as colonoscopies, and other categories of specialty care that require timely attention."
In Los Angeles, the medical center—which is the nation's largest—claims the average wait time was less than four days for completed mental health appointments in August.
But an internal document obtained by CNN showed the average wait time for new patients seeking mental health care at the LA VA was 43 days in August.
"They've started to measure the numbers differently more than they have actually improved the patient's actual wait time in many cases," a source in Los Angeles told CNN.
VA Deputy Secretary Sloan Gibson claims that's not the case, however. "I wouldn't stand for it, not for a minute," he told CNN.
-Noel Brinkerhoff
To Learn More:
Senators Lose Patience with VA Hospitals (by Tim Ryan, Courthouse News Service)
Veterans Still Facing Major Medical Delays at VA Hospitals (by Drew Griffin, Nelli Black, Scott Bronstein and Curt Devine, CNN)
Wait Lists Grow as more Veterans Seek Health Care (by Noel Brinkerhoff, AllGov)
VA Internal Report Confirms False Reports by Phoenix Office (by Noel Brinkerhoff and Danny Biederman, AllGov)