Wait Lists Grow as more Veterans Seek Health Care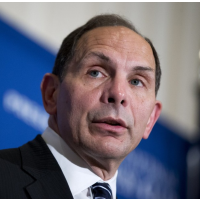 VA Secretary Robert McDonald (photo: Manuel Balce Ceneta, AP)
The problem of veterans waiting for healthcare has only gotten worse, not better, at the
Department of Veterans Affairs, which was rocked last year by stories of long waiting lists.
The New York Times reported that the number of veterans on waiting lists of one month or more is 50% higher than it was during the height of the 2014 controversy.
More veterans are seeking help from doctors, some of whose workloads have increased 20% or more over the past year. This has occurred at hospitals and clinics in such regions as Alabama, Georgia, South Carolina, Southern California and Southern Nevada. Doctor workloads jumped by 18% in North Carolina and Virginia.
Physician treatment for veterans outside the VA grew by 50%in the Pennsylvania region and by 36% in the region covering Michigan and Indiana.
The VA is facing a nearly $3 billion budget shortfall, which could further impact the delivery of care for veterans. To address the funding gap, the agency may implement furloughs, hiring freezes and other cost-cutting moves. Agency leaders also intend to ask Congress for help, but Republican lawmakers may be reluctant to allow the VA to shift monies around to address its needs.
"Something has to give," the department's deputy secretary, Sloan D. Gibson, told the Times. "We can't leave this as the status quo. We are not meeting the needs of veterans, and veterans are signaling that to us by coming in for additional care, and we can't deliver it as timely as we want to."
-Noel Brinkerhoff
To Learn More:
Wait Lists Grow as Many More Veterans Seek Care and Funding Falls Far Short (by Richard Oppel Jr., New York Times)
57,000 Veterans Waiting more than 3 Months for First Medical Appointments; 64,000 Not Even on the List (by Noel Brinkerhoff, AllGov)
Veterans Waiting more than a Year for Benefits have Grown from 11,000 to 245,000 under Obama (by Noel Brinkerhoff, AllGov)