Taliban Using Jihadist Textbooks…Supplied by the U.S.
Wednesday, December 10, 2014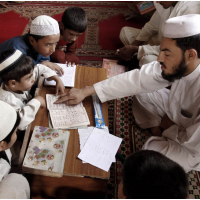 An Afghan teacher instructs his students (photo: Rahmat Gul, AP)
The next generation of radical Muslim fundamentalists in Afghanistan is learning how to hate the United States through textbooks made by the United States.
This story of shortsighted, unintended consequences begins in the 1980s after the former Soviet Union invaded Afghanistan.
As part of the U.S. campaign to undermine Soviet control over the country, the U.S. Agency for International Development (USAID) oversaw the creation of school books in local Afghan languages that taught children how to become jihadists. The books, such as The Alphabet for Jihad Literacy, were produced for USAID by the University of Nebraska Omaha (which, years later, was apparently paid $6.5 million for a similar book contract, according to First Lady Laura Bush during her appearance with Afghan leader Hamid Karzai in 2002). The books were reportedly smuggled into Afghanistan with the help of the CIA and the ISI, the Pakistani military intelligence organization.
The Soviet Union pulled out of Afghanistan in 1988.
The USAID textbooks, however, are still being used, only now by the Taliban as it seeks to recruit new warriors to attack, among others, American soldiers stationed in Afghanistan. Duplicated copies of the U.S. textbooks have also surfaced in Pakistan.
The books are "filled with talk of jihad and featured drawings of guns, bullets, soldiers and mines," according to The Washington Post. One sample entry states that the letter "T" is for "topak" (gun). An example of word usage follows: "My uncle has a gun. He does jihad with the gun."
The school books "have served since then as the Afghan school system's core curriculum," the Post's Joe Stephens and David B. Ottaway reported back in 2002.
That year, UNICEF managed to destroy at least half a million of the made-in-USA books. However, not only did many of the books survive, but—according to a recent Post article—the Taliban is reprinting the books to continue the unforeseen legacy of American tax dollars going to help those who want to destroy the U.S.
-Noel Brinkerhoff, Danny Biederman
To Learn More:
The Taliban Indoctrinates Kids with Jihadist Textbooks Paid for by the U.S. (by Ishaan Tharoor, Washington Post)
The Abc's of Jihad in Afghanistan * Courtesy, USA (by Joe Stephens and David B. Ottaway, Washington Post)