U.S. Maternal Mortality Rate Rises, Bucks Trend of Fewer Such Deaths Worldwide
Friday, September 23, 2016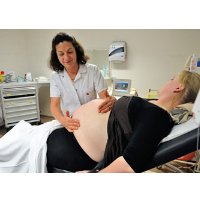 Credit: Philippe Huguen/AFP/Getty Images
Sabrina Tavernise, © 2016 New York Times News Service
WASHINGTON — One of the biggest worldwide public health triumphs in recent years has been maternal mortality. Global death rates fell by more than a third from 2000 to 2015. The United States, however, is one of the few countries in the world that has gone against the grain, new data show. Its maternal mortality rate has risen despite improvements in health care and an overwhelming global trend in the other direction.
The United States has become an outlier among rich nations in maternal deaths, according to new data released Wednesday by the Institute of Health Metrics and Evaluation, a research group funded by the Gates Foundation and based at the University of Washington.
There were 28 maternal deaths — defined as deaths due to complications from pregnancy or childbirth — per 100,000 births in the United States in 2013, up from 23 in 2005, the institute found. The rate in 2013, the most recent year for which the institute had detailed data for the United States, was more than triple Canada's. The institute is projecting that the American rate dipped in the last two years to 25 by 2015.
A rise was extremely rare among rich countries. In all, 24 countries had a rise between 2000 and 2015, including South Sudan and the Democratic Republic of Congo, though their rates were much higher. America's rise put it above a number of poorer countries whose rates had declined with the global trend, including Iran, Vietnam, Russia and Romania.
In all, the U.S. rate was up by more than half since 1990, according to the institute, which uses many different data sources — including countries' vital records systems — to calculate hundreds of health measures.
The findings are part of a gathering body of evidence on the dismal numbers for maternal mortality among American women and how they keep getting worse. This summer, a group of researchers published an analysis that found the maternal mortality rate had increased by 27 percent for 48 states and the District of Columbia from 2000 to 2014. Texas, analyzed separately, had nearly doubled.
Another analysis this month looked at increases by state, and found particularly high rates in the District of Columbia, New Jersey, Georgia and Arkansas, especially among black women. (The absolute rate can vary by data set, but the upward trend has been clear.)
How is it that the United States, a country with some of the most cutting-edge medical treatments, has some of the worst maternal mortality rates in the developed world?
Most people imagine maternal mortality as 19th-century-style deaths, for example hemorrhage in childbirth or death from eclampsia, a condition involving high blood pressure. Those types of deaths still happen, but their rate has not changed much.
Instead, the rise in recent years has been driven by heart problems and other chronic medical conditions, like diabetes, which has increased sharply in the population. Researchers have theorized that a rise in obesity, particularly acute among poor black women who have much higher rates of maternal mortality than whites, may be contributing to the problem.
"The really scary thing to us is all the deaths from cardiovascular disease and heart failure," said Dr. William Callaghan, who runs the Maternal and Infant Health Branch in the Division of Reproductive Health at the Centers for Disease Control and Prevention. "It's a quarter of all deaths. There were almost none in the remote past."
Maternal deaths are notoriously hard to count. There is often not enough detail on a death certificate to tell if the death was related to pregnancy. For example, if a woman dies from heart failure six months after she gives birth, it can sometimes take a special analysis to determine if it was pregnancy related (deaths can be counted up to a year after birth, though the vast majority happen in the first six weeks). In 2003, the federal government asked states to report in the same way, and most eventually complied.
Some have argued that the United States simply keeps better track now, counting deaths that would not have been included before. But federal health officials say the increase is more than just accounting.
"The rise is real," Callaghan said.
Maternal mortality was relatively flat in the 1980s and 1990s, and most experts agree that the increases began around 2000.
The trend has puzzled researchers and prompted a number of states to start maternal death review boards, groups of experts who sift through the deaths and consider policy changes that might reduce them. Such boards, used in Britain, Australia and a number of other European countries, are considered crucial in understanding, and potentially reversing, the trend. But only about half the states have them.
"The first time I saw our results for the United States I thought there must be some error," said Dr. Nicholas J. Kassebaum, an assistant professor of anesthesiology and pain medicine at Seattle Children's Hospital, who is the director of maternal and child health research at the Institute of Health Metrics and Evaluation. "I actually started looking for what went wrong in the data processing."
Kassebaum said it was possible that the United States is simply ahead of other rich countries in the fallout from its obesity epidemic and that chronic conditions may eventually figure more prominently into the maternal mortality numbers of other countries, too. The American health system is good at handling life-threatening situations during birth, such as hemorrhage, he said, but chronic conditions are different.
"It can be tricky to track down what will trigger major complications such as heart failure or a blocked artery," he said, pointing out that women of childbearing age are by definition young and very unlikely to die at all, never mind of a chronic condition.
Nor was the new trend of increased pregnancy rates in older women the main driver. Kassebaum said that he did find a substantial rise in maternal mortality among women ages 45 and older, but that there had been increases in all age groups.
Eugene Declercq, a professor of community health sciences at the Boston University School of Public Health who has tracked maternal mortality for years, said the racial disparities in the American rates were deeply troubling, but only part of the story.
"People may think this is happening because the U.S. has more minorities and poor people," he said. "But even if you limit the analysis to whites, we would still rank behind all other industrialized countries."
To Learn More:
Lack of Federal Policy for Paid Maternity Leave May Contribute to Decline of Women in U.S. Workforce (by Noel Brinkerhoff, AllGov)
African-American Mothers far less likely to Breastfeed than other Groups (by Steve Straehley, AllGov)
Obese Adult Californians Are Getting Fatter Faster (by Ken Broder, AllGov California)