African-American Mothers far less likely to Breastfeed than other Groups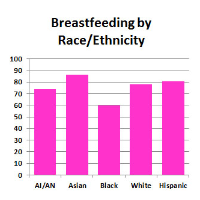 (graphic: Steve Straehley, AllGov)
African-American women breastfeed their children less than those in any other racial category, according to a new study.
The report, "Racial and Ethnic Disparities in Breastfeeding," published in Breastfeeding Medicine, compared data from the Centers for Disease Control and Prevention from 2007 on each race/ethnic categories to the standards set by the federal government's Healthy People 2020 goals. It found that only 59.7% of black women ever breastfeed their children. Asian women had the highest breastfeeding rate at 86.4%, followed by Hispanic women at 80.6%. White women's rate of breastfeeding their children at least some of the time is 77.7%. Among American Indians and Alaska Natives the breastfeeding rate is 73.8%
Part of the reason for African-Americans' lower breastfeeding rate has to do with the inability of many in that group to work in situations where it's easy to breastfeed. "These are common barriers to breastfeeding because you can't access jobs where you might have a maternity leave, or can negotiate a private space to pump, or feel you are able to nurse at work," Monique Sims-Harper, director of A More Excellent Way Health Improvement Organization and a spokeswoman for the California Breastfeeding Coalition, told the BBC.
Black women also often receive fewer healthcare services, so they don't get a formal education in breastfeeding. The cycle perpetuates because black women who might be inclined to breastfeed their children have fewer friends and relatives who have done so and can provide support.
-Steve Straehley
To Learn More:
Racial and Ethnic Disparities in Breastfeeding (by Katherine M. Jones, Michael L. Power, John T. Queenan and Jay Schulkin, Breastfeeding Medicine)
Why Do African-American Women Breastfeed Less? (Magazine Monitor, BBC News)
Breast Milk for Sale versus Breast Milk Banks (by Noel Brinkerhoff and Danny Biederman, AllGov)