U.S. Justice Dept. Sues Mississippi for Locking Up the Mentally Ill
Saturday, August 13, 2016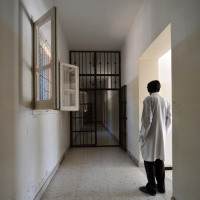 (photo: Charles Onians, AFP/Getty Images)
By Erik de la Garza, Courthouse News Service
JACKSON, Miss. (CN) — The Justice Department sued Mississippi for violating the American with Disabilities Act (pdf) by forcing mentally ill people into state-run psychiatric hospitals instead of providing community-based services.
The department found that the state "unnecessarily and illegally" institutionalizes adults and children with disabilities, and fails to ensure that they have access to necessary services, according to the lawsuit (pdf) filed Thursday in Jackson Federal Court.
It also says the state has recognized these failures but has not yet implemented the required reforms to meet the needs of those with disabilities.
"For far too long, Mississippi has failed people with mental illness, violating their civil rights by confining them in isolating institutions," said Attorney General Loretta Lynch in a statement. "Our lawsuit seeks to end these injustices, and it sends a clear signal that we will continue to fight for the full rights and liberties of Americans with mental illness"
The state's mental health system has been under investigation since a 2011 findings letter reported that gaps and weakness too often subjected mentally ill individuals to needless trauma, especially during a crisis.
Mississippi Attorney General Jim Hood said his office has been negotiating with the Justice Department for several years in an effort to avoid litigation, but refused to accept demands for a court-ordered consent decree "that would bind the state to perpetual federal oversight."
"This lawsuit is a clarion call to all of us in state leadership to consider how we care for the least among us and how we can make it better," Hood said. "This is a clear opportunity for our Legislature, mental health professionals, our faith-based community and all of us as Mississippians to come together to determine an effective way to address issues related to our mental health delivery system for years to come."
Hood said the state has made progress in expanding mental health programs but added that "further work remains to be done."
The DOJ has filed similar lawsuits in about a dozen other states alleging violations of the U.S. Supreme Court's Olmstead decision. It requires states to make services available to people with disabilities, including people with mental illness, in the most integrated setting appropriate to their needs.
To Learn More:
USA v. State of Mississippi (U.S. District Court for Southern District of Mississippi)
Justice Department Sues Mississippi for Discriminating Against Adults with Mental Illness (U.S. Department of Justice, Office of Public Affairs)
Texas Forces Mentally Ill Suspects to Languish in Jail Cells without Treatment, Claims Lawsuit (by Ryan Kocian, Courthouse News Service)
ACLU Lawsuit Accuses the State of "Warehousing" Mentally Ill in Jails (by Ken Broder, AllGov California)
Are Prisons the New Mental Health Hospitals? (by Steve Straehley, AllGov)
10 Times as Many Americans with Severe Mental Illness are in Prison or Jail than in State Mental Hospitals (by Noel Brinkerhoff and Steve Straehley, AllGov)
2 Million Mentally Ill Americans per Year Are Put in Prisons Rather than Mental Hospitals (by Noel Brinkerhoff and Danny Biederman, AllGov)