U.S. Joins 153 Nations to Approve World's First Global Conventional Arms Treaty; Republican Senators to Fight Ratification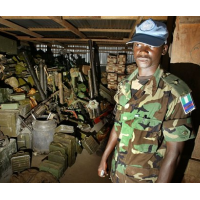 U.N. soldier guards weapons cache at home of an ex-dictator Charles Taylor in Liberia, 2003 (photo: Ben Curtis, AP)
The United States sided with more than 150 nations this week in approving the world's first arms treaty governing conventional weapons—particularly notable in that it seeks to protect human rights. But U.S. participation in the agreement hinges on the Senate ratifying it, and that may not happen if Republicans have their way.
The conventional arms treaty was approved by a vote of 154-3, with only Syria, North Korea and Iran opposing it. However, two of the world's most important arms traders, Russia and China, abstained from voting, along with 21 other countries, including Egypt and India, which purchase large numbers of weapons.
Countries abiding by the treaty will be expected to control their arms exports so that they are not sold to nations accused of violating human rights through genocide, war crimes, terrorism, organized crime or attacks on schools, hospitals and other civilian sites.
Global arms sales amount to an $80-billion-a-year business, of which the U.S. controls 30%, the largest single slice of the pie. The treaty, which contains no enforcement mechanism and relies on each nation's own internal regulations, covers such weapons as tanks, warships, combat aircraft, missiles, attack helicopters, and small arms.
An earlier draft of the treaty included a phrase stating that the accord covers those weapons "at a minimum." The U.S. demanded that the phrase be dropped, and it was, in spite of complaints that doing so imposed limitations on the treaty's scope.
The Obama administration announced last week that it would vote for the treaty. That announcement prompted a sharp response from the National Rifle Association (NRA), which argued that the agreement would infringe upon the Second Amendment rights of Americans.
Republicans and moderate Democrats in the Senate seem to agree with the NRA's position, having approved an amendment in March that sought to prevent the U.S. from entering into the treaty.
"The U.N. Arms Trade Treaty that passed in the General Assembly today would require the United States to implement gun-control legislation as required by the treaty, which could supersede the laws our elected officials have already put into place," Senator James Inhofe (R-Oklahoma) said in a statement.
Actually, the treaty does no such thing, stating that it protects "the exclusive right of States to regulate internal transfers of arms and national ownership, including through constitutional protections on private ownership."
This accord is the first major arms agreement since the 1996 Comprehensive Nuclear Test Ban Treaty (pdf). Fifty nations must ratify it in order for it to take effect. The process begins in June and is expected to take between one and two years.
-Noel Brinkerhoff, Danny Biederman
To Learn More:
United Nations Adopts Global Treaty on Conventional Arms Trade (Agence France-Presse)
UN Adopts Landmark Arms Treaty (Al Jazeera)
UN Adopts Landmark Arms Treaty To Regulate Multibillion-Dollar Global Weapons Trade (by Edith M. Lederer, Associated Press)
Senators Vow to Oppose UN Arms Trade Treaty (Foxnews.com)
The Arms Trade Treaty: UN General Assembly Voting Tabulation
UK and European Leaders Accuse Obama of Watering Down Human Rights Clause in Arms Trade Treaty (by Noel Brinkerhoff, All Gov)
U.S. Now Controls More than Half of World Arms Sales (by Noel Brinkerhoff and David Wallechinsky, AllGov)