U.N. Calls on Obama to Publish Findings on Bush-Era Torture
Wednesday, March 06, 2013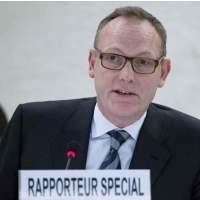 Ben Emmerson (photo: United Nations)
A United Nations human rights official wants the Obama administration to release a government report on the Central Intelligence Agency's secret rendition program conducted during the George W. Bush era.
Ben Emmerson, UN special rapporteur on the promotion and protection of human rights while countering terrorism, noted that under President Barack Obama, the government has withheld important information on what he said were illegal acts committed by CIA agents.
"Many of the facts remain classified, and no public official has so far been brought to justice in the United States," Emmerson said in a report to the UN Human Rights Council. Speaking to that panel, he called the CIA torture program an "international conspiracy of crime."
Under Obama, Attorney General Eric Holder has decided to not prosecute any CIA official who was involved in the extrajudicial imprisonment and torture of terrorism suspects.
Information on the CIA kidnapping program was collected by a Senate select committee on intelligence. But those findings—collated in a 6,000-page report— were never released to the public, and Emmerson wants that report turned over.
Emmerson has urged the British government to make similar disclosures pertaining to its role in the program, and called on five countries (Lithuania, Morocco, Poland, Romania and Thailand) to conduct inquiries based on evidence suggesting that the CIA used their territories as "black sites" for torture.
Emmerson himself is British.
-Noel Brinkerhoff
To Learn More:
U.N. Investigator Urges U.S. to Pursue Bush-Era Abuses (by Stephanie Nebehay, Reuters)
U.N. Rights Advocate Seeks Release of Findings on CIA Detention (by Colum Lynch, Washington Post)
U.N.'s Drone Inquisitor: CIA Torture Was an 'International Conspiracy of Crime' (by Spencer Ackerman, Wired)
Letter to President Obama Requesting SSCI Study Declassification (pdf)
These 54 Governments Secretly Supported the CIA's Kidnap-and-Torture Program (by David Wallechinsky, AllGov)
Italy's Highest Court Upholds CIA Kidnapping Convictions (by Noel Brinkerhoff and David Wallechinsky, AllGov)
Obama to Continue Bush Outsourcing of Interrogations (by Noel Brinkerhoff, AllGov)
Will Obama Protect Bush's Secrets? (AllGov)