U.S. Demand for Encrypted Data from Tech Firms Moves from Backdoor Access to Backroom Deals
Wednesday, October 14, 2015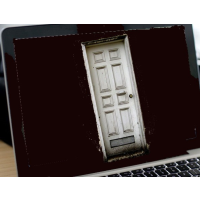 (graphic: Steve Straehley, AllGov)
President Barack Obama has backed off in his efforts to convince tech companies to create so-called backdoor access to their encryption programs that protect the contents of users' data.
But the White House has not given up on accessing that information, preferring for now to keep talking to—and presumably pressuring—companies to give federal law enforcement access to encryption systems on a case-by-case basis, according to The Washington Post.
The biggest change in Obama's position is his decision Oct. 1 not to ask Congress to approve a law mandating that companies open up their encryption programming to the Federal Bureau of Investigation on an ongoing basis.
"While eschewing attempts to legislatively mandate that tech companies build backdoors into their services, the president is continuing the status quo – that is, informally pressuring companies to give the government access to unencrypted data," the Electronic Frontier Foundation reported.
The EFF, which has been fighting Obama's encryption access demands, called the change "a partial victory for those of us fighting for strong, secure, private communications online."
EFF is part of a broad coalition called SaveCrypto.org that represents more than 50,000 people and over 30 nonprofits and companies that opposes any "legislation, executive order, or private agreement with the government" that would "undermine our rights."
The government still has ways of obtaining personal information. For instance, it's easier to access when it's transmitted via telecommunications companies, which have a much cozier relationship with the government than the social media giants.
-Noel Brinkerhoff
To Learn More:
Partial Victory: Obama Encryption Policy Rejects Laws Mandating Backdoors, but Leaves the Door Open for Informal Deals (by Rainey Reitman, Electronic Frontier Foundation)
Obama Administration Opts Not to Force Firms to Decrypt Data — For Now (by Ellen Nakashima and Andrea Peterson, Washington Post)
Obama Won't Seek Access to Encrypted User Data (by Nicole Perlroth and David E. Sanger, New York Times)
Major Tech Firms Continue to Resist U.S. Government Demands for Text and Email Access (by Noel Brinkerhoff and Steve Straehley, AllGov)
Major Tech Firms, Fearing Loss of Profits, Call for Reform of Government Surveillance; Obama Hedges (by Noel Brinkerhoff and Danny Biederman, AllGov)
NSA Invaded Google and Yahoo Global Data Centers to Access Hundreds of Millions of Accounts (by Noel Brinkerhoff and Danny Biederman, AllGov)