Major Tech Firms Continue to Resist U.S. Government Demands for Text and Email Access
Thursday, September 10, 2015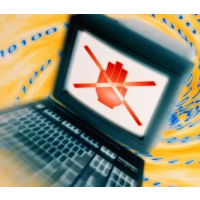 (graphic Getty Images)
Apple and Microsoft are standing up to the Obama administration as it requests to see emails and texts the government says are connected to criminal investigations.
In the case of Apple, the Department of Justice sought text messages sent between individuals suspected of illegal gun and drug activity. The messages were sent using Apple's iMessage system. Apple said it couldn't comply with the request as the iMessage system is encrypted and the company can't access the messages, although it did turn over some data stored on its iCloud servers.
A similar standoff occurred between Justice officials and Microsoft. Prosecutors issued a warrant for emails from a drug trafficking suspect. But Microsoft balked, telling the administration it would have to get an order from an Irish court because the emails were stored on servers in Dublin, according to The New York Times.
The government now finds itself in a quandary. If it seeks data from Microsoft's overseas servers, would that allow foreign governments to demand information from U.S.-based computer networks? "Clearly, if the U.S. government wins, the door is open for other governments to reach into data centers in the U.S.," Brad Smith, Microsoft's general counsel, said in an interview, according to the Times.

"The conflicts with Apple and Microsoft reflect heightened corporate resistance, in the post-Edward J. Snowden era, by American technology companies intent on demonstrating that they are trying to protect customer information," the Times' Matt Apuzzo, David E. Sanger and Michael S. Schmidt wrote.
-Noel Brinkerhoff, Steve Straehley
To Learn More:
Apple and Other Tech Companies Tangle With U.S. Over Data Access (by Matt Apuzzo, David E. Sanger and Michael S. Schmidt, New York Times)
Apple Privacy Push Faces First Big Test from U.S. Government (by Nadia Prupis, Common Dreams)
Major Tech Firms, Fearing Loss of Profits, Call for Reform of Government Surveillance; Obama Hedges (by Noel Brinkerhoff and Danny Biederman, AllGov)
Tech Companies Wrestle with U.S. Government over Disclosure of Data Requests (by Noel Brinkerhoff and Danny Biederman, AllGov)