Trump Factor Steers Foreign Students Away from U.S. Colleges, Putting at Risk Schools' Annual $32 Billion in Foreign Revenue
Sunday, November 20, 2016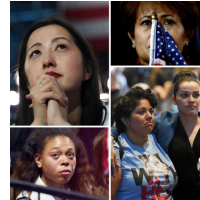 Reactions to the election of Donald Trump to the U.S. presidency (photo: Getty Images)
By Nida Najar and Stephanie Saul, New York Times
NEW DELHI — At a college fair Wednesday at the Le Méridien hotel here, 20 U.S. universities made their pitches to aspiring students, many of whom had long hoped to study in the United States. But as the students checked out presentations from colleges ranging from the State University of New York at Binghamton to Abilene Christian University in Texas, several expressed concerns about going to America under a Donald Trump administration.
"It's the main topic of conversation among my friends," said Palak Gera, 21, who is applying to graduate programs in pharmaceutical science in North Carolina, Illinois and North Dakota. "They don't want to apply to the U.S. under Trump."
Aman Kumar, 18, who is looking at universities in California, said, "In his campaign, he's discriminating against Muslim and other brown and black people," adding, "I'm thinking of applying to Canada."
This year, the number of international students in U.S. colleges surpassed 1 million for the first time, bringing more than $32 billion a year into the economy and infusions of money to financially struggling colleges.
College admissions officials in the United States caution that it is too early to draw firm conclusions about overseas applications, because deadlines for applications are generally in January and February. But they are worried that Trump's election as president could portend a decline in international candidates.
Canadian universities have already detected a postelection surge in interest from overseas.
"We have seen an increase in applications from the U.S. and from international students in the last week," Jocelyne Younan, the director of global undergraduate recruitment at McGill University in Montreal, wrote in an email. "We've also seen an increase in students inquiring about McGill on social media."
Traffic on a University of Toronto website for international applicants surged the day after the election, officials there said — and most of it came from Americans.
"Visits to our recruitment website from the U.S. are typically around 1,000 a day," said Ted Sargent, the university's vice president, international. "On Nov. 9, that spiked to 10,000."
On the same day, there was an increase in visitors from Britain and India, Sargent said.
"Our positive message as a university, but also as a city and a country, definitely is about openness to people from around the world and a real inclusiveness," he said.
A disruption in the flow of international students could be particularly worrisome for universities who balance their books with income from international students, who generally pay higher tuition.
At Indiana State University, 1,000 of the 13,500 students are foreign, including many Saudis who transferred this year from Idaho State, and officials are concerned, said Santhana Naidu, an associate vice president for communications and marketing.
"We have already received inquiries from prospective students who are in the applicant pool," Naidu said. "They're asking, 'Is it safe for me to come there?' and generally getting the lay of the land." Naidu will be among officials meeting this week in Terre Haute at the university to determine what they can do to assuage fears.
Scott Manning, the director of global programs at Susquehanna University, a liberal arts college in Selinsgrove, Pennsylvania, said he had heard before the election that two prospective students from China were waiting until after the vote to submit visa documents necessary to attend Susquehanna.
"They were kind of spooked about threats Trump made about the South China Sea, back and forth with Japan about some uninhabited islands, and trade issues in general," Manning said. The students, who were considering an English-language program beginning in January as a precursor to fall enrollment, have still not submitted their documents, he said.
Officials at Ohio State University said it was too early to tell whether the election result would affect international applications, adding that there had been an increase so far this year, although most were received before Election Day.
International study has historically been affected by social forces. Attacks on Indian students in Australia in 2009 and 2010 were believed to be part of the reason for a sharp drop-off in applications from India.
International education experts first raised concerns in May about the election of Trump, when a study was presented at a meeting of NAFSA: Association of International Educators indicating that a Trump presidency could dissuade international students from coming to the United States.
The study, by Intead and FPP EDU Media, two companies specializing in international student recruitment for colleges, found that 60 percent of international prospective students would be less likely to attend a college in the United States if Trump were elected. "We were really surprised, if not shocked, by the results," said Benjamin Waxman, the chief executive of Intead.
More recently, international education experts who have been on the ground in China and India — the two biggest feeder countries to U.S. colleges — also say they are seeing postelection jitters.
Andrew Chen, the chief development officer at WholeRen, an international education consulting company in Pittsburgh, returned to the United States this week from China, where he said colleges in other countries were trying to capitalize on fears over Trump.
"Many organizations and programs are starting to use this to promote education in the U.K., Australia and Singapore," Chen said. "These competitors paint the U.S. as not safe. Now, with Trump, they're saying it's going to be unfriendly."
But Chen said he believed the fears of international students were unfounded. "He doesn't like refugees from the Middle East, and he said for all Muslims he wanted to do a background check," Chen said. "And also people from Mexico. He doesn't like those people."
Chen added, "But I don't think he ever said he doesn't like international students who pay tuition to study in the U.S."
Rahul Choudaha, an international education consultant in New Jersey, has been traveling for the past week in India, where he said there was a palpable worry among students and their parents.
"They are not seeing the United States as a safe destination," said Choudaha, a founder of interEdge, a company that helps international students. "They're changing the destination to Australia or Singapore."
"It's an anti-immigrant tone," he added. "Just stylistically, he seems be a very different person than people thought would be taking leadership in America."
As she prepared her applications to prestigious U.S. universities, Naina Lavakare, a senior at the British School in New Delhi, developed a Plan B.
"It was a family joke," said Lavakare's mother, Jyoti Pande. "You can apply anywhere you want. However, if it's Trump in the White House, we're not sure we want to send you to the U.S."
Lavakare, 17, has adjusted her college aspirations. While she still has several U.S. colleges on her list — in New York, California and Rhode Island — she dropped universities in "red states" to focus on colleges in Britain and Canada, her mother said, because she was concerned about Trump's anti-immigrant talk.
Lavakare and her friends, Pande said, "view Trump as a bigot and a misogynist." She added, "I think that is what is freaking them out more than anything else."
To Learn More:
Rise of Trump Elicits Shock, Outrage and Panic across Europe (by Dan Bilefsky, New York Times)
British Lawmakers Debate Pros and Cons of Banning Trump from Britain (by Kylie MacLellan, Reuters)