Thousands of U.S. Veterans to Serve as 'Human Shields" for Dakota Pipeline Protesters
Wednesday, November 30, 2016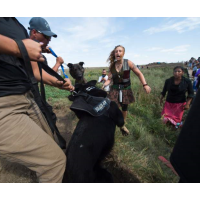 Dogs used against Dakota pipeline protesters, Sept. 2016 (photo: Robyn Beck, Getty Images)
By Christopher Mele, New York Times
As many as 2,000 veterans plan to gather next week at the Standing Rock Sioux Reservation in North Dakota to serve as "human shields" for protesters who have clashed with police for months over the construction of an oil pipeline, organizers said.
The effort, called Veterans Stand for Standing Rock, is planned as a nonviolent intervention to defend demonstrators from what the group calls "assault and intimidation at the hands of the militarized police force."
The veterans' plan coincides with an announcement Tuesday by law enforcement officials that they may impose fines to block supplies from entering the main protest camp after a mandatory evacuation order from the governor. Officials had warned earlier of a physical blockade, but they later backed away from that, Reuters said. Protesters have vowed to stay put.
Opponents of the 1,170-mile Dakota Access Pipeline have gathered for months at the Oceti Sakowin camp, about 40 miles south of Bismarck. The Standing Rock Sioux and other Native American tribes fear the pipeline could pollute the Missouri River and harm sacred cultural lands and tribal burial grounds.
The evacuation order issued on Monday by Gov. Jack Dalrymple, a Republican, cited "anticipated harsh weather conditions." It came before a winter storm dumped about 6 inches of snow and brought strong winds to the area Monday, making roads "nearly impassable at the camp sites," according to Doualy Xaykaothao of Minnesota Public Radio.
The governor's statement said, "Any person who chooses to enter, re-enter or stay in the evacuation does so at their own risk." The order was effective immediately and was to remain in place indefinitely.
The veterans' effort will also run up against a plan by the Army Corps of Engineers to close off access to the protesters' campsite and create a "free speech zone." Federal officials said anyone found on the land after Dec. 5 could be charged with trespassing.
"Yeah, good luck with that," Michael A. Wood Jr., a founder of the veterans' event, said in an interview.
Wood, who served in the Marine Corps, organized the event with Wesley Clark Jr., a screenwriter, activist and son of Wesley K. Clark, the retired Army general and onetime supreme allied commander in Europe for NATO.
Wood said he had initially hoped to attract about 500 veterans; he had to stop sign-ups when they reached 2,000. He said volunteers are from diverse backgrounds: "We have every age, we have every war."
One veteran, Loreal Black Shawl, said the mission to support the protesters was intensely personal.
Black Shawl, 39, of Rio Rancho, New Mexico, is a descendant of two Native American tribes, the Oglala Lakota and Northern Arapaho. She served in the Army for nearly eight years.
"OK, are you going to treat us veterans who have served our country in the same way as you have those water protectors?" Black Shawl said, referring to the protesters. "We're not there to create chaos. We are there because we are tired of seeing the water protectors being treated as non-humans."
Authorities have used rubber bullets, pepper spray and water cannons against demonstrators, hundreds of whom have been injured, according to protest organizers. The clashes have been highly contentious, with police and demonstrators leveling accusations of violence at each other.
Some protesters filed a class-action lawsuit on Monday against the Morton County police and others, alleging excessive use of force and seeking a court injunction to prevent authorities from using rubber bullets, explosive grenades and water cannons, according to The Atlantic.
By spotlighting issues such as the use of force by police, national energy policies and the treatment of Native Americans, the protests have garnered national headlines and widespread attention on social media.
Black Shawl acknowledged that the operation could prove problematic because the veterans and police both have military or tactical training. She said she had a "huge, huge nervousness and anxiety" about possibly being injured and what could happen to other veterans.
An "operations order" for participants outlined the logistics with military precision and language, referring to opposing forces, friendly forces and supporting units. Organizers encouraged attendees to wear their old uniforms.
Wood said they were discouraging active-duty service members from attending.
"There's no reason for them to get into hot water," he said.
The premise is for the veterans to be fully self-sufficient, he said.
"There will be civilian and tribe members watching us from behind but nobody supporting us," the operations order said. "We are the cavalry."
A spokesman for the North Dakota State Highway Patrol, Lt. Thomas O. Iverson, said in an email on Monday, "If the group remains lawful and refrains from blocking the roadway, there will be no issues."
The chairman of the Standing Rock Sioux Tribe, Dave Archambault II, said in an email that he had no concerns that tensions could escalate.
"Everyone that comes knows our intent — to remain in peace and prayer," he said.
To Learn More:
Trump Stock Ownership in Dakota Pipeline Firm Foreshadows Trouble if Conflict Becomes His Call (by Matthew Daly, Associated Press)
As Protesting Sioux Dig In, Dakota Pipeline Work Resumes With Approval from Court but Not from Army Corps (by Blake Nicholson, Associated Press)
Pipeline Protesters May Remain on Federal Land (by James MacPherson, Associated Press)
Native American Tribes Protest Pipeline Construction (by Levi Lass, Courthouse News Service)