As Protesting Sioux Dig In, Dakota Pipeline Work Resumes With Approval from Court but Not from Army Corps
Wednesday, October 12, 2016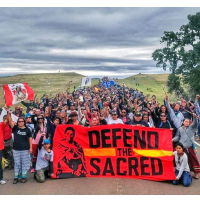 Sioux tribe members protest Dakota pipeline (photo: Dallas Goldtooth, EcoWatch)
By Blake Nicholson, Associated Press
ST. ANTHONY, N.D. (AP) — Construction on the four-state Dakota Access pipeline resumed Tuesday on private land in North Dakota that's near a camp where thousands of protesters supporting tribal rights have gathered for months.
In turn, protesters said they're discussing nonviolent opposition measures, including chaining themselves to equipment. And nine people were arrested Tuesday attempting to shut down pipelines in other states as a show of solidarity with the Dakota Access protesters.
Texas-based Energy Transfer Partners resumed digging trenches and laying pipe, Morton County Sheriff's Office spokesman Rob Keller said, a move that comes in light of Sunday's federal appeals court ruling that allowed construction to resume within 20 miles of Lake Oahe. That Missouri River reservoir is the water supply for the Standing Rock Sioux Tribe's reservation.
"We reiterate our commitment to protect cultural resources, the environment and public safety," the company said in a statement earlier Tuesday. The $3.8 billion, 1,200-mile pipeline from North Dakota to Illinois is otherwise largely complete.
The work area is a few miles from two protester camps, where scores of people have gathered in recent months and say they intend to stay through the winter.
Energy Transfer Partners still needs approval from the U.S. Army Corps of Engineers to work on a separate parcel of federal land bordering and under Lake Oahe, which the agency manages. The Corps said Monday it was not ready to give that approval because it is still reviewing whether reforms are needed in the way tribal views are considered for such projects.
The Standing Rock Sioux wants construction halted because of concerns about potential contamination of its water supply and says the pipeline will encroach on tribal burial sites and other cultural artifacts.
A state archaeologist's inspection found no such artifacts on the private land where construction will resume. The tribe disputes that, and is still appealing a lower-court ruling from September that allowed work on the entire pipeline to proceed.
Protesters will discuss nonviolent measures to oppose the resumption of construction, camp spokesman Cody Hall said Tuesday. Methods might include chaining themselves to equipment, as they have done in the past, but nothing had been decided early Tuesday, he said.
"The people are going to stay vigilant. They're going to fight this pipeline to the very end," he said.
One of the protest sites has a school, which North Dakota's superintendent of public instruction said Tuesday is operating illegally and that students should enroll at other schools until it meets state standards.
Kirsten Baesler also said in a letter to the Standing Rock Sioux Tribal Council that it'll likely take "considerable time" to gain needed approval and that the Mandan Public School District is prepared to accept students, as well as bus them to and from the camp.
In early September, tribal officials accused construction crews of bulldozing several sites of "significant cultural and historic value," leading to a clash between protesters and private security guards hired by the pipeline company. No one was arrested, and at least 30 people were pepper-sprayed.
Dozens have been arrested at construction sites, including actress Shailene Woodley and Green Party presidential candidate Jill Stein.
The nine who were arrested Tuesday were targeting two pipelines in Minnesota, one in Montana, one in North Dakota and one in Washington state, all of which move oil from Canada to the United States, according to Jay O'Hara, a spokesman for the environmental activism group Climate Disobedience Center.
"We are joining in support and in solidarity with those folks who are on the front lines in Cannonball, North Dakota," he said.
Pipeline company officials say the attempt to disrupt delivery was not successful. Pipelines at four of the sites were temporarily shut down before the protesters could reach the valves, and all resumed operation within hours. In Washington, the Mountain Puget Sound pipeline system wasn't operating at the time of the attempt.
Carl Reimer, executive director of the Pipeline Safety Trust, said it takes "a push of a button" to remotely close and open valves along the system and turn pumps on and off to start and stop the flow of oil. He said the protest was a "stupid move" that did not accomplish its goal.
The trust "was formed because of a valve that was shut unexpectedly and caused a pressure surge that ruptured a pipeline and killed three kids," Reimer said. "We're pretty sensitive to people shutting valves illegally."
Associated Press writers Dave Kolpack in Fargo, North Dakota, Matt Volz in Helena, Montana, and Phuong Le in Seattle contributed to this report.
To Learn More:
Pipeline Protesters May Remain on Federal Land (by James MacPherson, Associated Press)
Native American Tribes Protest Pipeline Construction (by Levi Lass, Courthouse News Service)
292 Unreported Oil Pipeline Leaks in North Dakota in less than 2 Years (by Matt Bewig, AllGov)