Thousands of U.S. Military Veterans Deported Due to Lack of Citizenship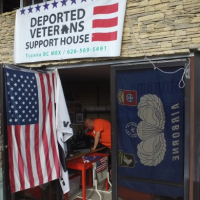 Safe house in Tijuana for deported U.S. veterans (photo: Twitter)
By Matt Reynolds, Courthouse News Service
LOS ANGELES (CN) - In poverty-stricken South Central Los Angeles, a television commercial for the U.S. Marines grabbed the attention of 11-year-old Enrique Salas Garcia.
"I wanted that sense of honor and pride that comes from being a Marine. I wanted to be a badass Marine," Garcia said.
Seven years later, the week after he graduated from high school, Garcia's dream came true when his parents allowed him to enlist in the Marines. He served in the first Persian Gulf War, won many commendations and became a lance corporal.
But as recounted in the American Civil Liberties Union report, "Discharged, Then Discarded," Salas's fortunes dramatically changed when he left the Marines and came home.
In adjusting to civilian life, Salas grappled with a drug problem. He was sentenced to six months in jail for possession. Though he vowed not to repeat that mistake, in a cruel twist of fate, Salas's permanent resident card was stolen during a family trip to Tijuana in 2006.
Border officials voided his legal status when he reported the green card stolen. And unknown to Salas, his conviction meant that despite his four years of military service, he faced deportation and separation from his children and family.
Now Salas is exiled in Tijuana, where he repairs industrial tanks. It is a long way from that snapshot of a young boy who believed America could offer him a better future.
Salas is not the only one, said ACLU staff attorney Jennie Pasquarella, co-author of the report on deported veterans, released last week by the ACLU.
Pasquarella says the U.S. government is letting down Salas and thousands of others by not educating active service members and veterans about how to naturalize.
All immigrants who are in the country legally are entitled to U.S. citizenship because of their military service. But while some deported veterans believe they earned citizenship simply by signing up for military service, others were misinformed by recruiters or officers about their legal status, Pasquarella said.
"That's one of the greatest tragedies of this. People didn't realize that they weren't already a citizen. Had they known, they could have applied and naturalized when they were in the service," the attorney said.
"I think that the fact that a veteran who serves in our armed forces and goes to fight our wars could come home from service and then be deported is news to most Americans. I think most Americans would be shocked to learn that that is happening."
Not everyone is sympathetic.
Ira Mehlman, with the Federation for American Immigration Reform, said it's not the government's responsibility to help veterans or soldiers on active duty apply for citizenship.
"Just because you have served in the military it doesn't exempt you from the consequences of your actions," Mehlman said in a telephone interview. "If you have served in the military and then subsequently committed some offense that makes you subject to deportation, that really is your responsibility."
The number of veterans who were deported is unclear.
Pasquarella said there could be thousands of deportees, dating back to the Vietnam War. In the past six months the ACLU has documented 85 cases, she said.
The ACLU began its study after Hector Barajas of the Deported Veterans Support House in Tijuana, also known as The Bunker, brought the issue to the group's attention. Barajas has connected with 240 deported veterans, Pasquarella said.
For many veterans, deportation is a "lifetime punishment" that cuts them off from Department of Veterans Affairs medical benefits, the report says.
Without medical help, to which they are entitled through the VA, veterans who suffer from post-traumatic stress disorder can end up turning to drugs: then can come addiction, criminal conviction and deportation, Pasquarella said.
For veterans deporting to a country where they've never lived, there is a more pressing concern. Daniel Torres, who served four years in the Marines after submitting a false birth certificate and has worked with Barajas at The Bunker, said he was approached by a drug cartel after he self-deported to Tijuana.
The cartels tried to recruit him to train other cartel members in military tactics. Torres, who has become a U.S. citizen, said in a phone interview that he declined because he had family in Tijuana and was in law school.
"I had a lot of things that kept me from having to resort to something like that. But just imagine how difficult it is for a military member to make the transition to civilian life. It's even more difficult when you've been deported and you're in a completely alien country," Torres said.
He said many deported veterans feel that the country they served has turned its back on them.
"All of a sudden here comes some cartel member saying, 'I'll give you $5,000 a week to come work for me.' You know, that is a risk," Torres said.
Some deported veterans and their families are dismayed to learn that while their adopted country won't allow them to come back to America alive, all veterans have a right to a military burial.
"If their families can stomach the insult, every deported veteran we interviewed may be welcomed back and honored as Americans in death, despite being banished from the United States in life," the report states.
The ACLU recommends that Immigration and Customs Enforcement adopts a moratorium on deporting active-duty U.S. servicemen and —women, and veterans who were honorably discharged. It also wants ICE to establish whether a person has served in the U.S. armed forces before it starts removal proceedings.
Pasquarella said she would like to see the military make sure that legal immigrants be naturalized while they are still serving their country.
"This problem wouldn't be occurring if people were actually naturalized when they were in the service," Pasquarella said.
Bardis Vakili and Tony Marcano of the ACLU of California co-authored the group's report.
Department of Homeland Security spokeswoman Gillian Christensen said in an email that ICE is "very deliberate in its review of cases involving veterans" and that the agency "specifically identifies service in the U.S. military as a positive factor that should be considered along with other factors in the totality of the circumstances when deciding whether or not prosecutorial discretion should be exercised."
She added, "Still, and as the report acknowledges, applicable law requires ICE to mandatorily detain and process for removal individuals that have been convicted of aggravated felonies as defined under the Immigration and Naturalization Act."
Christensen said several veterans who were deported had applied for citizenship because of their military service but said she could not comment on specific or individual cases. She confirmed that ICE does not track data on deported veterans.
To Learn More:
Discharged, Then Discarded (by Bardis Vakili, Jennie Pasquarella, and Tony Marcano, ACLU of California) (pdf)
Is it Fair to Deport Veterans who Break the Law? (by Noel Brinkerhoff, AllGov)
Navy Veteran Deported after 40 Years in U.S. (by Noel Brinkerhoff, AllGov)
U.S Prepares to Deport Thousands of Veterans (by Noel Brinkerhoff, AllGov)