The Amtrak Crash: a Preventable Tragedy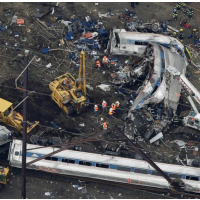 Amtrak crash in Philadelphia, May 2015 (photo: Patrick Semansky, AP)
Early reports about the crash Tuesday of an Amtrak train near Philadelphia say that excessive speed was the cause of the accident, with the train traveling in excess of 100 miles per hour on a section of track posted for half that. And although there's technology available that could have prevented the crash, it wasn't installed where the crash occurred.
The technology is Positive Train Control (PTC), which enables a train to be slowed or stopped to prevent such accidents. The system was mandated to be installed on all rail lines by the end of this year in the wake of a 2008 collision between a commuter train and a freight train in suburban Los Angeles. Twenty-five people were killed in that wreck, caused by the freight engineer texting and missing a stop signal.
PTC could have saved the lives of the seven who have died so far as a result of the Philadelphia accident. "We feel that had such a system been installed in this section of track, this accident would not have occurred," Robert Sumwalt, a member of the National Transportation Safety Board (NTSB), said Wednesday during a news conference.
Part of the reason the system has not been installed along more miles of track is its cost. The Association of American Railroads (AAR) says their members have already spent $5.2 billion on the project with about that much more to go, according to The New York Times. About 400 miles of Amtrak lines are covered by PTC.
That Congress's deadline for PTC implementation would not be met should be no surprise to anyone. In March 2014, the railroad industry issued a report on the progress of installing PTC along the 60,000 miles of track that the U.S. Congress mandated in the Rail Safety Improvement Act of 2008. That report stated that "various technical and non-technical challenges make full development and deployment of PTC by 2015 impossible," according to the AAR. A similar notice was issued by AAR in 2012.
Amtrak has gotten no help from Congress in making its lines safer. The morning after the Philadelphia crash, the Republican-controlled House Appropriations Committee actually voted along party lines to cut funding to the passenger rail line by about 20%. And a bill proposed in March by Sen. Roy Blunt (R-Missouri) would kick the PTC can down the road, moving the deadline for full compliance to 2020.
"Within the past decade alone, the National Transportation Safety Board has completed more than two dozen train accident investigations that took 65 lives and injured over 1,100 people—all of this, according to the NTSB, could have been prevented by PTC," said Richard Blumenthal (D-Connecticut) in speech he made last month opposing the proposed delay in PTC compliance.
Former NTSB chair Deborah A. P. Hersman, now CEO of the National Safety Council, spelled out the situation clearly. "We are seeing events that are absolutely preventable with positive train control, particularly on passenger operations," Hersman told the Times. "When you consider investment priorities, safety comes last," she said. "Unfortunately, it absolutely has to come first."
-Steve Straehley
To Learn More:
Technology That Could Have Prevented Amtrak Derailment Was Absent (by Jad Mouawad, New York Times)
Currently Available Technology May Have Prevented Fatal Amtrak Crash. But Congress Never Funded It. (by Josh Israel, ThinkProgress)
House Panel Votes to Cut Amtrak Budget Hours After Deadly Crash (by Heather Caygle, Politico)
Majority of Railroad-Related Deaths are Caused by…Trespassing (by Noel Brinkerhoff and Steve Straehley, AllGov)
Rail Crash Victims Suffer from Pro-Business Liability Cap (by Noel Brinkerhoff and David Wallechinsky, AllGov)