Majority of Railroad-Related Deaths are Caused by…Trespassing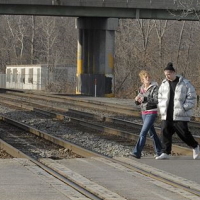 (AP photo)
The leading cause of death involving trains has not been the result of derailments or collisions between trains and automobiles. Instead, most people killed on a railroad track were doing something they shouldn't have been in the first place: trespassing.
Data (pdf) compiled by the Congressional Research Service (CRS) shows that over the past 10 years, 58% of rail-related fatalities were a result of people illegally walking across or along rail lines. From 2005 to 2015 the number of those killed because they were trespassing was 4,528, according to CRS. In 2014 alone, the death toll from such incidents was 526 plus 213 suicides. Another 419 were injured as a result of trespassing.
"As a culture and as a country, we simply have not yet accepted that trains and railroad operations are dangerous," said Sarah Feinberg, the Federal Railroad Administration's acting administrator, said last month. The death toll is much higher than those caused by derailments and collisions last year, which produced only two deaths and 128 injuries.
National Transportation Safety Board (NTSB) member Robert Sumwalt warned the public at a special forum: "Railroad track are not playgrounds."
"They should not be used as a shortcut on the way home from school or the grocery store. They are not a place to go out and take selfies or do a fitness video. They are dangerous places," Sumwalt said.
A movie crew member was killed in 2014 when a train hit a hospital bed placed on tracks during the production of "Midnight Rider," a film based on the life of rock singer Gregg Allman. The NTSB ruled that was a case of trespassing; the producers had not obtained permission from CSX to film on the tracks.
-Noel Brinkerhoff, Steve Straehley
To Learn More:
CRS Insights (Federation of American Scientists) (pdf)
NTSB Forum Looks at Railroad Trespassing Accidents (by Brian Tumulty, USA Today)
Railroad Track Trespassing Killed 526 People Last Year (Norwalk Reflector)