Texas Republicans Accused of End Run around Court's Invalidation of Discriminatory Voter ID Law
Friday, September 09, 2016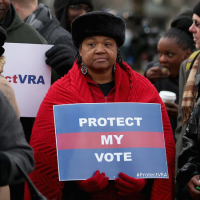 (photo: Chip Somodevilla, Getty Images)
By Michael Wines, New York Times
Last week, voting rights advocates accused North Carolina Republicans of mounting a procedural end run around a panel of federal appeals court judges, which had ruled (pdf) that a 2013 election law targeted African-American voters "with almost surgical precision" and struck it down.
On Wednesday, they leveled virtually the same charge against Republicans in Texas, where a 2011 election law was invalidated this summer by another federal appeals court. This time, the advocates had the support of the Justice Department.
The appeals court ruled in July that the Texas law, which required voters to show one of seven government photo IDs before casting a ballot, discriminated against minorities who lacked the IDs and could not easily get them. A lower court later ordered state officials to let people without IDs vote by signing a statement that they "cannot reasonably obtain" one — and told the state to spend $2.5 million to educate voters and local election officials on the relaxed requirement.
But in a motion filed Wednesday in U.S. District Court in Corpus Christi, advocacy groups and federal lawyers said the state's education campaign was misleading voters into believing that voting would still be more difficult than it is.
The reason, the motion stated, is that the campaign omits the word "reasonably," stating instead that voters can cast ballots only if they swear that they "cannot obtain" an identification card. That not only ignores the court's order, the motion stated, but also leaves voters with the erroneous impression that they cannot vote unless they have exhausted every avenue to acquire an ID.
Texas officials repeatedly refused demands to change the language on official websites or in literature, the motion stated, saying that "cannot obtain" met the court's requirement.
The Texas secretary of state, Carlos H. Cascos, whose office oversees elections, declined to comment. A spokesman for Attorney General Ken Paxton said his office was studying the motion and would file a response by Friday.
The single word may seem a small matter, but the issue is not: More than 600,000 Texans have none of the required IDs, according to evidence presented in the trial over the Texas law.
The potential impact is magnified, advocacy groups say, by statements from Texas Republicans that suggest the state will closely review the sworn statements by voters without IDs and will prosecute anyone who makes a false declaration.
To Learn More:
Court Ruling Strikes down North Carolina's Voter ID Law as Intentionally "Discriminatory" (by Dan McCue, Courthouse News Service)
Supreme Court Fails to Halt "Discriminatory" Texas Voter ID Law (by Mark Sherman, Associated Press)
Federal Court Strikes Down Texas Voter ID Law as Discriminatory (by Noel Brinkerhoff, AllGov)