SEC Not Required to Pay for Panamanians' "Bacchanalian Adventure" During a Deposition in London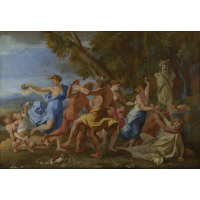 Nicolas Poussin--Bacchanal Before a Statue of Pan
By Adam Klasfeld, Courthouse News Service
NEW YORK — Executives from a Panamanian securities dealer cannot make the Securities and Exchange Commission foot the bill for the "bacchanalian adventure" that accompanied their deposition in London, a federal judge ruled.
Exasperation dripped Thursday from the court's refusal to make U.S. taxpayers underwrite the European jaunt of Verdmont Capital's principals and counsel.
"This dispute reveals, yet again, that no application is too preposterous for a federal judge," the terse three-page order (pdf) from U.S. District Judge William Pauley III states.
Verdmont was one of five financial institutions that regulators accused last year of making more than $75 million from unregistered sales of "virtually worthless" penny stocks.
The SEC's case bankrupted Cayman Islands-based Caledonian Bank in February 2015.
Though Pauley reamed regulators in November for wildly overstating their case against Caledonian, he allowed the claims against Verdmont to proceed.
Pauley also authorized depositions for two of the company's principals, Glynn Fisher and Taylor Housser, in London, with all expenses at "reasonable commercial prices" on the taxpayer's dime.
The commission informed Verdmont that the current government lodging rate was $322 a night including taxes, but the executives took a more liberal view of what qualified as reasonable expenses.
"The reimbursement requests that Verdmont now submits to this court can only be characterized as exquisite," Pauley marveled.
Fisher, Housser and Verdmont's counsel paid approximately $6,000 per person on first-class flights to London.
"After arriving at Heathrow, Fisher booked two $700-per-night rooms at the five-star Lanesborough, which offers a 'glamorous cigar lounge,' and 'one of London's most exclusive bars,'" the opinion states. "Whether Fisher toddled down to the bar or simply relied on the '24-hour butler service' is not known. But he and his companion managed to accumulate over $1,000 in unspecified liquor and bar charges during the four-night stay.
"When Fisher and Housser ventured outside the Lanesborough, they revealed their epicurean tastes by ordering an $85 bottle of 2012 Restless River Cabernet — actually distributed by 'Hedonism Wines' — and a $100 bottle of Bierzo el Rapolao Perez, a well-regarded Mencia varietal from the Leon province of Spain," the opinion continues. "And because it would have been a shame for the deponents to visit London without a tour of St. Paul's Cathedral, they bought tour tickets and now seek reimbursement from the SEC."
Verdmont's attorney Robert Zito, a partner at the Wall Street-based firm Carter Ledyard & Milburn, defended his clients against charges of excess by pointing out their pious tourism.
"A church tour is hardly bacchanalian," he said.
With remarkable understatement, Pauley deadpanned: "It is difficult for this court to comprehend the business purpose behind these expenses."
"But what takes this application into uncharted territory is the fact that Fisher and Housser apparently billed the SEC for a two-day jaunt to Madrid, where they recuperated from their undoubtedly strenuous depositions," the judge added. "There, they incurred another $1,500 in lodging and assorted beverages at the Hotel Orfila, and savored jamón iberico, and lomo alto de buey, a Spanish beef tenderloin, at Restaurante Oter."
That was enough for Pauley to tell the executives, basta.
"The request that the government reimburse Verdmont's principals for their saturnalian revelries is beyond the pale," he wrote. "While no one could be faulted for enjoying the finer things Europe has to offer, it is generally ill-advised to seek reimbursement from the public fisc."
The commission needs to reimburse only the per diems and airfare that its Office of Financial Management determines to be "reasonable commercial prices."
"And the SEC need not reimburse any charges incurred during the deponents' junket to Spain," Pauley added.
Verdmont attorney Zito saw a courtroom victory underneath Pauley's poison pen.
"The SEC refused to pay us anything, which precipitated the motion," he wrote in an email. "We won."
A spokesman for the SEC declined to comment.
To Learn More:
Justice Dept. Conference Expenses…$16 for a Muffin, $5 for a Meatball (by Noel Brinkerhoff and David Wallechinsky, AllGov)
Chris Christie Eats up his Taxpayer-Funded Expense Allowance…Literally (by Noel Brinkerhoff, AllGov)
GSA Employees Who Work from Home Racked Up $750,000 in Travel Expenses (by Matt Bewig, AllGov)