GSA Employees Who Work from Home Racked Up $750,000 in Travel Expenses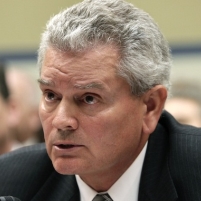 Jeffrey Neely
The
Public Buildings Service
(PBS) of the
General Services Administration
(GSA) has yet another scandal on its hands. PBS has been plagued by a series of scandals since April 2008, when GSA Administrator Lurita Doan was asked by the Bush White House to resign because of
serious allegations
of conflicts of interest and use of federal properties managed by PBS for partisan purposes, which is prohibited by the
Hatch Act
. Her successor,
Martha Johnson
, was brought in by President Obama to clean things up, but she had to resign in April 2012 after the release of an inspector general's
report
that bluntly detailed wasteful spending for a PBS training conference for 300 people in Henderson, Nevada, which cost $822,751, or $2,742.50 per person.
The latest scandal involves 95 home-based employees at PBS who racked up $750,000 in travel expenses over a nine-month period in 2010 and 2011. The "virtual employees" were apparently traveling to PBS's regional headquarters and other locales, at an overall rate of $83,333 per month or $877 per employee per month. Alerted via email to these figures in October 2011, PBS executive Jeffrey Neely, who also later resigned in May 2012 over the conference scandal, wrote "OMG, … 100 virtuals and most of them with some pretty serious grades," referring to the employees' General Schedule pay status. "[W]ell this is a fine mess we've gotten ourselves into." When he forwarded the information to other colleagues, he told them "This will take your breath away. Don't share further."
GSA spokesman Adam Elkington said Friday that GSA is "conducting an extensive review" of its operations and that "Our agency remains committed to eliminating any excessive spending and promoting government efficiency." New GSA Administrator
Daniel Tangherlini
, who must be wondering how long he will last in the job, has begun what he calls a "top-to-bottom" review of the agency's spending, structure and operations.
-Matt Bewig
To Learn More: