Chris Christie Eats up his Taxpayer-Funded Expense Allowance…Literally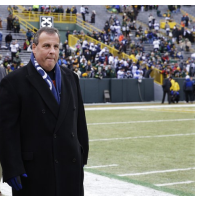 Chris Christie at MetLife Stadium (photo: Olivier Douliery, Getty Images)
Even after losing more than 80 pounds, New Jersey Governor Chris Christie still finds himself confronted with questions about food—and why he spends so much taxpayer money on it.
The Republican governor with presidential ambitions reportedly spent $360,000 from his state allowance since taking office in 2010, with $300,000—more than 80% of the money to buy food and alcohol, according to a ledger (pdf) obtained by New Jersey Watchdog. Christie receives $95,000 in expense advances on top of his salary. The advances are paid quarterly.
During his first two years as governor, Christie blew nearly $83,000 on food and beverages at MetLife Stadium, presumably to wine-and-dine friends and allies at NFL football games. But it's unclear where a lot of Christie's food allowance spending went because his office refused to disclose more details.
"While Christie returns surplus funds to the state each year, Treasury officials say he does not submit receipts or accounting for the public monies he spends," Mark Lagerkvist reported.
The state Republican Party also helped out Christie in 2012, reimbursing the state for the public monies he spent at MetLife Stadium. He has since stopped using his expense account there.
Lagerkvist reported that Christie found other ways to spend the money, including $102,495 worth of groceries and alcoholic beverages from retail stores. Again, the lack of transparency by Christie's office left it unknown if the groceries were for the governor's mansion, in which Christie does not live, or for his personal residence.
-Noel Brinkerhoff
To Learn More:
Christie Buys $300K of Food & Booze with N.J. Expense Account (by Mark Lagerkvist, New Jersey Watchdog.org)
Christie Billed State $85K To Entertain in Sports VIP Boxes (by Jill Colvin And Jeff Horwitz, Associated Press)
City and State Pension Funds Pay Billions in Undisclosed Fees to Private Equity Companies (by Steve Straehley, AllGov)