Rick Perry First Texas Governor to be Indicted while in Office Since World War I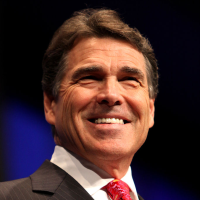 Gov. Rick Perry (photo: Gage Skidmore, Wikipedia)
Oops.
Republican Texas Governor Rick Perry was indicted Friday on charges of abuse of power stemming from his threat to defund the state's Public Integrity Unit.
Perry threatened to veto funding for the unit unless its chief, Travis County District Attorney Rosemary Lehmberg, resigned her post. Lehmberg had been arrested in 2013 for drunk driving and was videotaped acting belligerently while being jailed. Lehmberg subsequently refused to quit and Perry used his line-item veto to kill the department's $7.5 million in funding in June of that year.
The Public Integrity Unit at the time was focused on one of Perry's pet projects, the Cancer Prevention and Research Institute of Texas. One of its executives, Jerry Cobbs, was indicted last December after an $11 million grant went through the agency without proper review, according to The Dallas Morning News. The money went to Peloton Therapeutics, one of whose investors had given $440,000 to the campaigns of Perry and Lt. Governor David Dewhurst.
The Texas governor has the right to veto legislation with which he disagrees. But Texans for Public Justice filed a complaint because he used it to threaten Lehmberg. A Travis County grand jury agreed. "We're pleased that the grand jury determined that the governor's bullying crossed the line into illegal behavior," Craig McDonald, executive director of Texans for Public Justice, told the Associated Press. "The complaint had merit, serious laws were potentially broken."
Perry was charged with abuse of official capacity, a first-degree felony with punishment ranging from five to 99 years in prison; and coercion of a public servant, a third-degree felony with a penalty of two to 10 years. He will be booked, including the taking of mugshots and fingerprints, in the near future.
Republicans are charging the indictment is politically motivated, but the special prosecutor in the case, Michael McCrum of San Antonio, said, "I took into account the fact that we're talking about the governor of a state and the governor of the state of Texas, which we all love. Obviously, that carries a level of importance. But when it gets down to it, the law is the law."
It's the first time a sitting Texas governor has been indicted in almost 100 years. James "Pa" Ferguson was charged in 1917 with an offense not too different from the one Perry is charged with—cutting off funding for the University of Texas in an attempt to remove some faculty and staff members. Ferguson was impeached, but resigned before he could be convicted.
Perry has a history of trying to get rid of officials who refuse to do his bidding. In 2009, he removed three members from the Texas Forensic Science Commission when that panel was about to issue a report on the 2004 execution of Cameron Todd Willingham, who was convicted of arson and murder based on what many considered flawed evidence analysis. The new members of the commission quashed the report.
-Steve Straehley
To Learn More:
Rick Perry Indicted On Two Felonies (by Christy Hoppe, Dallas Morning News)
Texas' Perry Indicted for Coercion for Veto Threat (by Paul J. Weber and Will Weissert, Associated Press)
Gov. Rick Perry of Texas Is Indicted on Charge of Abuse of Power (by Manny Fernandez, New York Times)
Texas Gov. Perry Refuses to Comply with Federal Prison Rape Elimination Law (by Noel Brinkerhoff, AllGov)
God Endorsed 4 Losing Republican Presidential Candidates (by Noel Brinkerhoff, AllGov)