Republican Defunding Effort Spearheads State-by-State Assault on Planned Parenthood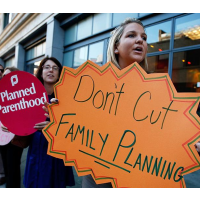 (photo: David McNew, Getty)
By David Crary, AP National Writer
NEW YORK (AP) — Though congressional Republicans' bid to defund Planned Parenthood was vetoed by President Barack Obama, anti-abortion activists and politicians are achieving a growing portion of their goal with an aggressive state-by-state strategy.
Over the past year, more than a dozen states have sought to halt or reduce public funding for Planned Parenthood. The latest to join the offensive is Florida; GOP Gov. Rick Scott signed a bill Friday that bars Planned Parenthood from accessing state funds.
Defunding has been blocked by court action in some states. But cutbacks in other states are forcing Planned Parenthood to drop contraceptive services, health screenings and other programs serving thousands of low-income women.
"It's been a non-stop assault — with devastating consequences for the patients we serve," said Dawn Laguens, Planned Parenthood's executive vice president. "At what point do you hit a tipping point where it has same impact as if a federal bill had passed?"
Planned Parenthood is a national target because of its role as the largest U.S. abortion provider. Federal law and the laws of most states already prevent public money from paying for abortions except in rare circumstances, but the recent defunding bills prohibit state money for any services by an organization that also provides abortions.
During debate in Florida, state Sen. Aaron Bean offered this rationale: "We pay their light bill, we pay their salaries, we pay all kinds of things when the state contracts with these clinics... Let's get Florida out of the abortion business."
Many of the measures surfaced after anti-abortion activists began releasing secretly recorded videos last July alleging that Planned Parenthood sold fetal tissue to researchers for a profit in violation of federal law. Planned Parenthood denied any wrongdoing, and investigations by several congressional panels and states have produced no evidence that it acted illegally.
Despite that, some Republican governors and lawmakers have cited the videos as justification for defunding.
States where defunding has been blocked by litigation include Alabama, Louisiana and Utah. In some other states, the impact of defunding may be slight — Mississippi, for example, is pursuing that step even though Planned Parenthood received less than $1,000 in state money in each of the past five years.
However, Planned Parenthood says the cuts have had tangible impact in several states. It cites Indiana, saying funding cuts led to closure of a Planned Parenthood clinic that was the only HIV testing center in Scott County — the subsequent site of an HIV epidemic.
A look at some other states where defunding has had an impact:
TEXAS
Texas was one of the first states to target Planned Parenthood's funding, saying it would not send Medicaid funds to organizations that provided abortions. The Republican-led state government culminated a multiyear effort by ousting Planned Parenthood from the Texas Women's Health Program in 2013 and opting to fund the program entirely with state money so it would not run afoul of federal law.
Dr. Paul Fine, medical director of Planned Parenthood Gulf Coast, said the move affected health screenings and contraceptive services for more than 13,000 low-income women, many of them in areas with limited health care alternatives.
Charitable donations covered some of the lost funding, Fine said, but overall Planned Parenthood has seen a shift to more patients paying in cash or relying on commercial health insurance.
John Seago, legislative director of Texas Right To Life, acknowledged there was a dip in the number of women served after Planned Parenthood was defunded. However, he said Texas has made progress in rebuilding a network of facilities that provide women's health care, with more providers now than in 2010.
Seago said he's encouraged that numerous other states have sought to defund Planned Parenthood, but noted that some have struggled with their tactics.
"Defunding Planned Parenthood is not an easy public policy goal," he said. "There are limits on what states can do. Some states have crossed that line and made mistakes."
In February, a study in the New England Journal of Medicine asserted that fewer women in Texas had obtained long-acting birth control after Planned Parenthood was ousted from the health program.
The study fueled a backlash. State Sen. Jane Nelson called it biased and misleading, and one of the co-authors left his job with the Texas Health and Human Services Commission after incurring criticism for his role.
WISCONSIN
In Wisconsin, Planned Parenthood has been the target of defunding efforts since Republican Gov. Scott Walker took office in 2011. Walker signed a bill that year eliminating all state funding for Planned Parenthood health centers, contributing to the closure of five rural clinics.
In February, Walker signed two bills that together are expected to cost Planned Parenthood $8 million per year in federal funds — including $3.5 million for family planning. The bills require state health officials to seek federal funding in the future on behalf of "less controversial providers."
Nicole Safar, government relations director for Planned Parenthood of Wisconsin, said her organization has not yet decided whether to challenge the bills in court.
If the cutbacks do take effect, Safar said, they would affect low-income women "who don't have anywhere else to go."
OHIO
Amid his presidential campaign, Ohio's GOP Gov. John Kasich signed a bill in February designed to strip about $1.3 million in government money from the state's Planned Parenthood affiliates. The funds, mostly federal, have supported HIV testing, promoted teen pregnancy prevention, and assisted nearly 2,800 new or expectant mothers last year.
Diego Espino, a vice president of Planned Parenthood of Greater Ohio, said the cut would not force the organization to close any of its 28 health centers in the state.
"We're not going away," he said. "But this will deprive thousands of women of very essential services."
Stephanie Ranade Krider, who advocated for the funding cuts as executive director of Ohio Right to Life, said the political message was more important that the amount of the cutback.
"When we look at the whole picture, it's like a drop in the bucket," she said. "The public relations impact is much more significant — it makes a statement that Ohio will no longer be doing business with the abortion industry."
To Learn More:
House Panel Republicans Accused of Using Planned Parenthood Subpoenas to Build Patient/Doctor Database (by Alan Fram, Associated Press)
Texas Grand Jury Indicts Anti-Abortion Activists Behind Covert Planned Parenthood Video (by Jon Hershovitz, Reuters)
Texas Investigators Ordered Planned Parenthood to Surrender Private Patient and Employee Records (by Steve Straehley, AllGov)