House Panel Republicans Accused of Using Planned Parenthood Subpoenas to Build Patient/Doctor Database
Thursday, February 18, 2016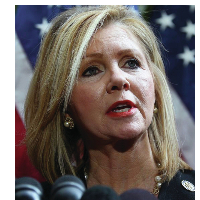 Rep. Marsha Blackburn (photo: Getty Images)
By Alan Fram, Associated Press
WASHINGTON (AP) — A special House panel investigating Planned Parenthood and other abortion providers has issued its first three subpoenas, the Republican chairman of the committee said Tuesday.
Rep. Marsha Blackburn, R-Tenn., said she'd subpoenaed documents from three groups she said are withholding information. They are StemExpress, a company that supplies fetal tissue from abortion clinics to researchers, and the University of New Mexico and Southwestern Women's Options, which perform abortions.
In a statement, Blackburn said information from the organizations "is critical to providing us with answers to questions the American people are asking."
Illinois Rep. Jan Schakowsky, top Democrat on the investigative panel, called the subpoenas unjustifiable and abusive. Schakowsky said Republicans want to build a database of patients, doctors and researchers that would risk their privacy and safety.
The subpoenas are "a new low in the Republicans' attack on women's health care," Schakowsky said.
The subpoenas seek information on people involved in procuring tissue, where it came from and where it went.
House Republicans created the special panel last October as an outgrowth of the conservative furor over secretly recorded videos showing Planned Parenthood officials discussing how they sometimes supply fetal tissue to scientists. Republicans and conservatives have denounced the practice and some have accused the organization of illegally selling the organs for profit.
Planned Parenthood has denied wrongdoing. Investigations by several congressional panels and states have yet to produce evidence that it acted illegally.
Blackburn says her panel may hold an initial hearing next month and aims to produce a report by late this year.
To Learn More:
Texas Grand Jury Indicts Anti-Abortion Activists Behind Covert Planned Parenthood Video (by Jon Hershovitz, Reuters)
Texas Investigators Ordered Planned Parenthood to Surrender Private Patient and Employee Records (by Steve Straehley, AllGov)
Move over Benghazi – Planned Parenthood Now Has 5 Committees Investigating It in Congress (by Noel Brinkerhoff and Steve Straehley, AllGov)