Texas Investigators Ordered Planned Parenthood to Surrender Private Patient and Employee Records
Tuesday, October 27, 2015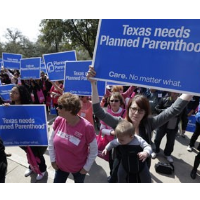 (photo: Eric Gay, AP)
Texas officials stormed into Planned Parenthood offices throughout that state last week, demanding patient records and personal information about Planned Parenthood employees, all based on false claims made in doctored videos.
State health investigators from the Texas Office of the Inspector General showed up unannounced at Planned Parenthood offices in Houston, Dallas, San Antonio and Brownsville last Thursday. Investigators remained at the clinics, in some cases for several hours, and demanded thousands of pages of medical records be turned over to the state by the following day, according to Reuters. Among the documents that officials demanded were patient lab tests, doctors' orders, nursing notes, contracts, patient sign-in sheets and office appointment books. They also requested employees' home addresses and phone numbers, as well as their salaries and any bonuses.
"We believe this is a fishing expedition," Planned Parenthood of the Texas Capital Region Chief
Executive Officer Ken Lambrecht told a news conference in Austin. He called the request "politically motivated."
The invasion of Planned Parenthood by Texas officials was that state's response to the heavily edited, misleading videos released by an anti-abortion group that purported to show Planned Parenthood officials selling fetal body parts. Numerous investigations in several states have shown that the group did nothing wrong. Since the release of the videos, Planned Parenthood has said it will no longer accept reimbursement for delivery of fetal tissue for research, which it had done in limited cases and is legal.
Texas officials claim the videos show that Planned Parenthood altered its abortion procedures to obtain better tissue samples and that it violated infection control standards. It also claims the group uses illegal billing standards that equate to Medicaid fraud. The state ended Medicaid funding for Planned Parenthood clinics earlier last week.
"This is a gross invasion of client privacy, and I'm tired of watching low-income women become collateral damage in attacks on Planned Parenthood that are based on deceptive videos and political grandstanding," State Senator José Rodríguez, chairman of the Texas Senate Democratic Caucus, said in a statement, according to The New York Times. "Texas should be increasing access to women's health care and expanding Medicaid in order to take better care of our mothers and sisters, not shutting down health clinics and intimidating women from seeking services."
Planned Parenthood has 30 days to contest the cut of Medicaid funding.
-Steve Straehley
To Learn More:
Texas Orders Health Clinics to Turn Over Patient Data (by Tamar Lewin, New York Times)
Planned Parenthood says Texas Launches Politically Charged Document Hunt (by Jon Herskovitz, Reuters)
Federal Court Approves Texas Law Requiring Abortion Providers to Have Hospital Privileges (by Noel Brinkerhoff, AllGov)
Family Planning Budget Cuts in Texas Lead to Increase in Poor Women having Babies (by Noel Brinkerhoff, AllGov)