Reduction in Number of Criminal Jury Trials Seen as Lowering Quality of Justice in U.S.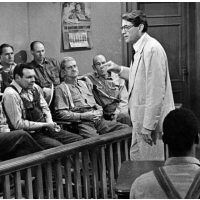 Scene from "To Kill a Mockingbird" (photo: Universal Pictures)
By Benjamin Weiser, New York Times
The criminal trial ended more than 2 1/2 years ago, but Judge Jesse M. Furman can still vividly recall the case. It stands out, not because of the defendant or the subject matter, but because of its rarity: In his four-plus years on the bench in U.S. District Court in Manhattan, it was his only criminal jury trial.
He is far from alone.
Judge J. Paul Oetken, in half a decade on that bench, has had four criminal trials, including one that was repeated after a jury deadlocked. For Judge Lewis A. Kaplan, who has handled some of the nation's most important terrorism cases, it has been 18 months since his last criminal jury trial.
"It's a loss," Kaplan said, "because when one thinks of the American system of justice, one thinks of justice being administered by juries of our peers. And to the extent that there's a decline in criminal jury trials, that is happening less frequently."
The national decline in trials, both criminal and civil, has been noted in law journal articles, bar association studies and judicial opinions. But recently, in the two federal courthouses in Manhattan and a third in White Plains (known collectively as the Southern District of New York), the vanishing of criminal jury trials has never seemed so pronounced.
The Southern District held only 50 criminal jury trials last year, the lowest since 2004, according to data provided by the court. The pace remains slow this year.
In 2005, records show, there were more than double the number of trials: 106. And decades ago, legal experts said, the numbers were much higher.
"It's hugely disappointing," said Judge Jed S. Rakoff, a 20-year veteran of the Manhattan federal bench. "A trial is the one place where the system really gets tested. Everything else is done behind closed doors."
Legal experts attribute the decline primarily to the advent of the congressional sentencing guidelines and the increased use of mandatory minimum sentences, which transferred power to prosecutors, and discouraged defendants from going to trial, where, if convicted, they might face harsher sentences.
"This is what jury trials were supposed to be a check against — the potential abuse of the use of prosecutorial power," said Frederick P. Hafetz, a defense lawyer and a former chief of the criminal division of the U.S. attorney's office in Manhattan, who is researching the issue of declining trials.
Julia L. Gatto, a federal public defender, recalled the case of Oumar Issa, a Malian arrested in Africa in a 2009 sting operation on charges of narco-terrorism conspiracy, which carried a mandatory minimum 20-year sentence, and conspiring to support a terrorist organization, which had no minimum.
Although Gatto and her client believed that elements of the case were weak and that there were strongly mitigating circumstances, Issa that concluded the risk of going to trial was too high. He pleaded guilty in 2012 to material support, with prosecutors dropping the other charge. He received 57 months in prison.
"It was the only thing he could do," Gatto said. "His hands were tied."
In 1997, according to federal courts data nationwide, 3,200 of 63,000 federal defendants were convicted in jury trials; in 2015, there were only 1,650 jury convictions, out of 81,000 defendants.
Former Judge John Gleeson, who in March stepped down from the federal bench in Brooklyn to enter private practice, noted in a 2013 court opinion that 81 percent of federal convictions in 1980 were the product of guilty pleas; in one recent year, the figure was 97 percent.
Gleeson wrote that because most pleas are negotiated before a prosecutor prepares a case for trial, the "thin presentation" of evidence needed for indictment "is hardly ever subjected to closer scrutiny by prosecutors, defense counsel, judges or juries."
"The entire system loses an edge," he added, "and I have no doubt that the quality of justice in our courthouses has suffered as a result."
While the decline in jury trials in federal court has been felt by judges, lawyers and defendants, it has also disrupted the rhythm of the courthouse ecosystem and those who depend on it.
Young lawyers typically become clerks for Southern District judges to gain valuable trial experience; now, some clerks depart without having worked a single trial.
Even the court's stenographers, whose incomes depend partially on the number of transcript pages they produce, feel the effect.
"It's been awful," said Rebecca Forman, who said she transcribed her last criminal jury trial in November 2015. "I didn't send my kids to camp this summer. I didn't have the money."
New York state court data also shows a striking decline in felony jury trials. In 1984, there were over 4,000 jury verdicts; in 2015, there were fewer than half of that.
Preet Bharara, the U.S. attorney in Manhattan, speaking to a lawyers group in 2012, cited another effect of the decline: fewer Americans serving on juries. "When trials vanish, citizenship also suffers," Bharara said, according to his prepared remarks.
Beyond the statistics, though, the decline in trials in the Southern District has become a frequent topic of discussion, even among judges themselves.
"We'd love to have more trials; most of us enjoy trials," said Judge Alvin K. Hellerstein, who joined the bench in 1998.
In April, when Judge Shira A. Scheindlin resigned from the bench after more than two decades, she said the decrease in trials was one consideration for her departure. "Trials are way, way down," she said. "The building's quite dead."
Judge P. Kevin Castel, who helped to organize the court's 225th anniversary celebration in 2014, recalled taking a friend, Mary Noe, a legal studies professor at St. John's University, to see an exhibit of courtroom illustrations documenting Southern District trial scenes of past decades. But as they reached the end, Noe observed that the sketches of more recent defendants, like Bernard L. Madoff and the would-be Times Square bomber Faisal Shahzad showed them pleading guilty.
"I was like, what happened to the trials?" she recalled.
Judge Analisa Torres said she had felt the difference ever since joining the federal bench in 2013. Torres, a former state court judge who handled about two dozen criminal trials a year in Manhattan and the Bronx, said she has since had just a few such trials. "It's day and night," she said.
On the state bench, she said, she spent her entire day in the courtroom but for the lunch hour. "Now, I am in chambers all day long."
The hallowed jury trial is a right enshrined in the Constitution and immortalized in American culture. But these days, said Daniel C. Richman, a professor at Columbia Law School, "'12 Angry Men' is more a cultural concept than a regular happening."
To be sure, federal judges are not exactly sitting on their hands. They maintain dockets filled with civil and criminal cases that wend their way through the process — even if most are resolved without a trial.
As for Furman, he is still waiting for his second criminal jury trial since becoming a judge in 2012. He almost had one earlier this year, but a scheduling conflict with a civil trial meant he had to pass it to another judge.
Another criminal trial loomed this summer. Then it, too, disappeared from the calendar, as the defendant pleaded guilty.
It meant he would have more time to get other work done in chambers, Furman recalled, and there was plenty of that to do.
"But there's a tinge," he added wistfully, "of what might have been, that we thought we had one, but it got away."
To Learn More:
29 States Roll Back Mandatory Sentencing (by Noel Brinkerhoff, AllGov)
Prosecutors Are behind Inconsistent Federal Sentencing Laws across U.S. (by Noel Brinkerhoff, AllGov)
Despite Supreme Court Ruling, at least 15 States Still Allow Mandatory Life Sentences for Juveniles (by Noel Brinkerhoff, AllGov)
Trials Become Less Common and Acquittals Even More Rare (by Noel Brinkerhoff and David Wallechinsky, AllGov)