Proposed Obama Trade Agreement would Ban Buy America Laws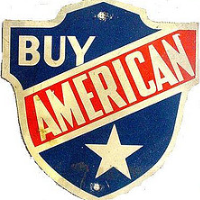 A new free trade agreement being negotiated between the Obama administration and countries along the Pacific Rim could mean the end of the "Buy American" policy currently in effect.
The proposed Trans-Pacific Partnership (TPP), which has been negotiated largely in secret, would prevent the U.S. government from giving preference to American companies for federal contracts.
Around since the 1933, the so-called "Buy American" policy allows domestic companies to put in more costly bids for government work and still receive the contract, even if a foreign business offers to provide the product or service for less money.
News of this provision in the Trans-Pacific Partnership prompted 68 House Democrats and one Republican to urge President Barack Obama to reconsider any agreement that ends "Buy American."
The next round of TPP negotiations, the seventeenth, will take place in Lima, Peru, May 15-23.
-Noel Brinkerhoff
To Learn More:
TransPacific Partnership Will Undermine Democracy, Empower Transnational Corporations (by Margaret Flowers and Kevin Zeese, Truthout)
Congress Revolts On Obama Plan That Would Ban 'Buy American' (by Zach Carter, Huffington Post)
What will be in the New U.S. Asia-Pacific Trade Agreement? It's None of Our Business (by Noel Brinkerhoff, AllGov)
11 Secret Documents Americans Deserve to See (#11) (by David Wallechinsky, AllGov)
Secret Obama Trade Agreement Would Allow Foreign Corporations to Avoid U.S. Laws (by Noel Brinkerhoff, AllGov)