Obama Whistleblower Program Requires Whistleblowers to Register to be Protected
Wednesday, April 16, 2014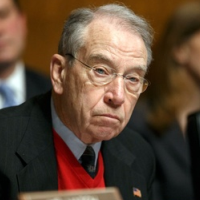 Sen. Chuck Grassley (photo: J. Scott Applewhite, AP)
Are whistleblowers—whose anonymity is often their best protection against retribution—made safer by being forced to register as whistleblowers with the U.S. government? Or are they being placed in greater danger?
The Obama administration is demanding they step forward and sign up.
Indeed, exposing government corruption or other wrongdoing often means being discreet, if not anonymous, on the part of the individuals blowing the whistle, unless they want to face retribution from higher-ups involved in the misdeeds. Keeping one's identity hidden is almost always essential for whistleblowers because of managers' or executives' impulse to protect themselves and punish those exposing their mistakes. Thus, any government program that requires whistleblowers to reveal themselves—ostensibly for their own good—might seem disingenuous, if not counterproductive to encouraging workers to expose law breakers.
But the Obama administration is taking this approach by mandating that government employees register as official whistleblowers under the Insider Threat program it established three years ago. This program was adopted, the president said, to protect against internal dangers lurking within federal agencies.
One of the biggest supporters on Capitol Hill of government whistleblowing says the Obama program's registration requirement is a terrible idea and antithetical to the importance of whistleblowers coming forward.
Senator Charles Grassley (R-Iowa), who coauthored the Whistleblower Protection Act of 1989 (pdf), addressed the U.S. Senate recently to commemorate the 25th anniversary of the landmark bill. During his speech, Grassley criticized Insider Threat's effort to expose whistleblowers, citing the Federal Bureau of Investigation (FBI) as a prime concern.
The Republican senator said he's been trying for months to get the FBI to share its Insider Threat training materials. But the bureau has steadfastly refused.
At one point, the FBI's top Insider Threat official agreed to meet with Grassley and Senator Patrick Leahy (D-Vermont) to discuss how the bureau was training its people to
"distinguish between true insider threats and legitimate whistleblowers."
The official, according to Grassley's speech, told them not to worry about the training materials, which they had failed to bring along to the meeting.
"He said whistleblowers had to register in order to be protected, and the Insider Threat Program would know to just avoid those people," Grassley said in his speech.
The official then "abruptly walked out" of the meeting after being there only 10 minutes.
"These are clearly not the actions of an agency that is genuinely open to whistleblowers or whistleblower protection," Grassley stated.
The senator, who has served in Congress since 1975, added that Obama's registration requirement was an idea that "should be pretty alarming to all Americans. Sometimes confidentiality is the best protection a whistleblower has."
-Noel Brinkerhoff
To Learn More:
Chuck Grassley: Insider Threat Program Poses Threat to Whistleblowers (Emptywheel)
Grassley Talks About the Anniversary of the Whistleblower Protection Act (Senator Charles Grassley)
Terrorists, Spies, Whistleblowers Treated the Same by Obama Administration (by Noel Brinkerhoff, AllGov)
Obama Anti-Whistleblower Program Requires Federal Employees to Report Suspicions of other Employees or Risk Punishment (by Noel Brinkerhoff and Danny Biederman, AllGov)